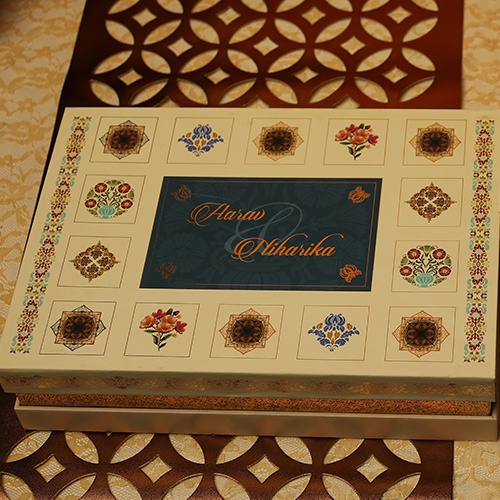 Wedding Invitations
Have you visited Anantmaya's exclusive showroom for wedding invitations in Chennai? Brand Anantmaya was conceived when we discovered that the premium wedding invitations market in India is still nascent and especially in the South, there is an unexpressed need for innovation, aesthetics, choice and exclusivity among the people. Our market research also revealed that individuals seeking customization and uniqueness have to travel to Delhi and Jaipur to source wedding invitations.
No need to look elsewhere, because we are the ultimate destination for all your wedding cards Chennai is looking for. With our wide array of offers, luxurious designs, and alluring elements, you will find yourself in awe of the stunning options available. So, get ready to impress your guests with the most elegant and unforgettable wedding invitations that will set the tone for your big day. And don't forget to check out the exclusive gifts collection among others, along with these enchanting wedding cards.
The best wedding cards Chennai has to offer are at Anantmaya. The latest designs, over 3000 in fact, under various categories.
One may not get a more exhaustive collection of wedding cards in Chennai, you may think. That is not so; at Anantmaya, we have an unbelievable collection of wedding invitations, one better than the other.
And unlimited possibilities for enhancing and value adding your card, to make it unique; never seen before, for your guests. Order your wedding cards Chennai from anywhere online and get it delivered at your doorstep.
Chennai, yet Delivery all over the world
Welcome to our wedding invitations showroom in Chennai! We are thrilled to bring you an amazing selection of luxurious and alluring wedding cards. If you're in Chennai, Mumbai, Delhi, Bengaluru, Erode, Coimbatore, Tiruppur, Madurai, we fulfill your order. Even in the USA, UK, South Africa, Australia, Sri Lanka, Malaysia, Singapore or anywhere else in the world, we've got you covered.
Ordering your dream wedding invitations has never been easier. Don't worry about unable to visit our showroom in Chennai. We will ship your choice of the best wedding cards right to your doorstep. Isn't that convenient? No matter where you are, we'll make sure you fill your special day with elegance and style.
Breathtaking Wedding Cards Collection
Our collection of wedding cards is truly breathtaking. We craft each crafted carefully with stunning elements that will leave you and your guests in awe. From traditional to modern, we have something for every taste and style. Our goal is to provide you with the perfect invitation that reflects your unique love story.
Not only do we offer a wide range of options, but we also ensure top-notch quality. We make our wedding cards with much attention to detail and the finest materials. Your invitations will not only look beautiful but also align with your tastes and preferences to bring out the best results.
When it comes to choosing the perfect wedding invitation for your son's or daughter's special day, nothing beats a personal visit. Seeing and feeling the invitations in person allows you to truly understand their beauty and significance that a video call simply can't capture.
Perfumed Wedding Invitations
And did you know we offer scented wedding invitations? Yes, that's right! Imagine adding a touch of fragrance to your invites. Is it the soothing scent of sandalwood, the delicate aroma of jasmine, the rich essence of oudh, or one of our other popular perfumes? The choice is yours. We have an extensive collection of cards available at various price ranges, so you're sure to find the perfect one that speaks to you.
Our wedding cards are not just ordinary invitations; they are of premium quality and finish with unique elements that make them truly stand out. From elegant designs to exquisite details, we craft each card with utmost care and attention. We believe that every couple is unique and their wedding deserves something extraordinary.
So come visit us today and explore our wide range of wedding cards. Let us help you find the perfect invitation that reflects your style and sets the tone for your special day. Because when it comes to making a lasting impression, our wedding cards do it literally.
Wedding cards that you love
When it comes to finding the perfect printer for your wedding invitations, it can be quite a challenge. But fear not, because Anantmaya is here to save the day! Out of all the wedding card shops in Chennai, Anantmaya at Mandaveli truly stands out. Our commitment to quality is evident in every aspect of our work. From luxurious designs to attractive elements, we offer an array of options that will surely impress you and your guests.
Visit Invites showroom in Chennai
In conclusion, if you happen to find yourself in Chennai, I would highly encourage you to pay a visit. All our wedding cards look luxurious and alluring, offering a wide range of options for your special day. Additionally, there are plenty of gifts and invitations to choose from, to ensure that you plan every aspect of your wedding perfectly. So why wait? Take advantage of the stunning elements that Chennai has to offer and make an informed decision for your dream wedding. We won't disappoint you!
Invitations delivered all over the world
Most importantly, we deliver the world over. So, even if you are a resident of UK, USA, Canada, Australia, South Africa, or anywhere else in the world, we service you with our unique and never seen before wedding cards from Chennai, India.
Did you know we have 500 varieties of box invitations at our Chennai invitation cards showroom? Checkout our special release wedding cards in the form of paper box invites too!
Here are some options that you can browse through.
Royal wedding invitations | Scroll invitations | Muslim wedding card | Acrylic wedding invitations | Lasercut wedding cards
Fix up an appointment for a more personalized service that would make your visit a satisfying one. Call/Whatsapp at +91-7824088999 for immediate and prompt attention at Anantmaya, Chennai's largest one stop wedding shop for your wedding invitations Chennai Anantmaya can make for you.