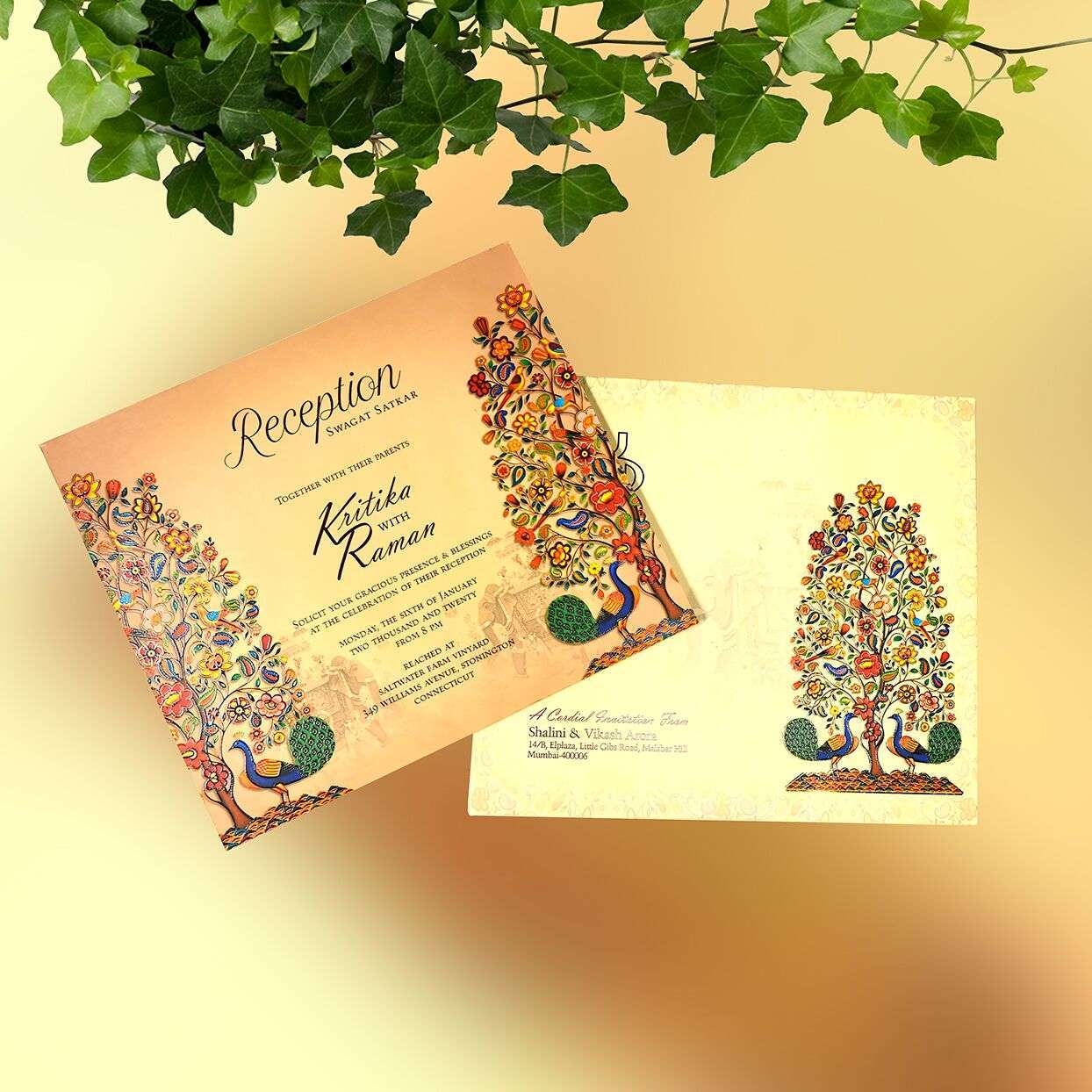 Multicolor Wedding Card
Choosing the right colors for your multicolor wedding card can be a tricky one. Each color has a different meaning and fits different wedding styles. Today the whole western world is mesmerized by Hindu weddings.
For weddings so colorful, it is but natural that we choose a multiple colors for our invitation. A multicolor wedding card is a treat to the eyes and brings out a variety of emotions within us. But, you need to be careful about choosing your multicolor shadi card, which we will help you get done.
First, we need to pick the right invitation colors and the right multicolor wedding card design.
Multicolor Invitations
Traditionally, yellow is the dominant color that is used for wedding invitations all over India, especially if it is a Hindu wedding. Multicolor invitations are few and far between because of the additional costs involved. But, when you have decided that you want class in your wedding invitation, the added costs do not hold much significance.
We at Anantmaya, focus on insisting that a few rupees here and there should not be considered once you have decided that you want the best invitations for your wedding, be it your multicolor wedding card, box invitation or whatever.
Multicolor invitation usually means two coloured or more colored invitation cards. On these invitations, we could print in one or more colors, in colors that match the card design.
Invitations or wedding cards come in various colors, such as yellow invitations, red wedding invitations, white invitations. And there are green invites, white invitations and a combination of these, like gold and white wedding invitations.
Pastel colours are also used in your multicolor shadi card design.
When talking about Indian weddings, they have their own significance. Indian weddings are usually a riot of colors and Indian wedding cards are expected to be multicolored as well. Hues of reds, yellows and greens make a splash, creating a perfect ambience for an event as vibrant as one's wedding. Invitation colours usually follow the theme of contrasting and similar color combinations.
Other colors in your Multicolor Wedding Card
Red Invitations: The Indian wedding without red is said to be incomplete. The color red is associated with Durga, one of the most revered Hindu goddesses, symbolic of power, strength and valor. The color red is said to be the boldest among the colors. Your multicolor wedding card would probably contain red in all probability.
Yellow Invitations: When talking on the color of prosperity, it provides the beliefs in being one of the auspicious colors. In Indian weddings the color of yellow is used as a ritual for both the bride and the groom.
Green Invitations: The color green in the Indian wedding signifies the color to bring the new beginnings in the couple's lives. It denotes a prosperous future for the wedding couple.
Now moving to the western world or the western styles of weddings, they have their own PASTEL flavors. They aren't as loud as the Indian wedding but classy and elegant is their way. Wedding card colors used in the weddings include:
Blue Invitations: The Pantone blue is the classic blue of the year 2020 which brings a sense of peace and also calms the azure.
This wedding card color is defined as sincere, reserved and quiet. When coming to the Beach weddings, the wedding card colors of blues plays it all right from scratch of invitation.
Orange Invitations: The pale version of this orange color like the peach and the apricot signifies to be soft and gentle having a stimulating conversation yet putting them to ease. Whereas in the darker side it states the over-confident nature.
Pink Invitations: A living coral having a cherry choice defines unconditional love and understanding, and also provides with the giving and receiving of nurturing.
Purple Invitations: The shades of purple define to be unique, individual and independent, definitely not one of the crowd, so the purple weddings will need to be unique in some way or the other. This color offers a more profound blend of purple and pink. This is a grown-up glam, coming of age, yet surprisingly soothing color.
The above RAINBOW colors (RED, YELLOW, GREEN, BLUE, ORANGE, and PINK, PURPLE) form the base for your multicolor wedding card in both the Indian and the western styles of weddings industry carries their own beauty in their own way.
In the context of multicolor wedding invitations, you may like to know that there are wedding invitation themes, which can be a step ahead of multicolor invitations.
The ivory in both the wedding cultures also has its role to play. It is defined to be a balanced, loyal and friendly personality of the hosts of the wedding. These wedding card colours are also listed to be neutral, as they are different from the above RAINBOW colours and in addition to this, this ivory colour relies more on the skin tones.
We have hundreds of designs and color combinations for your multicolor wedding invitation. We also have options for watercolor wedding invitations to choose in your multicolor wedding invites.
We can suggest the right invitation colours to choose based on your wedding theme and story. Connect with us, visit our store to get a first hand look at our collection before you choose your multicolor wedding card from us.
No need to look elsewhere, because we are the ultimate destination for all your wedding cards Chennai is looking for. With our wide array of offers, luxurious designs, and alluring elements, you will find yourself in awe of the stunning options available. So, get ready to impress your guests with the most elegant and unforgettable wedding invitations that will set the tone for your big day. And don't forget to check out the exclusive gifts collection among others, along with these enchanting wedding cards.
The best wedding cards Chennai has to offer are at Anantmaya. The latest designs, over 3000 in fact, under various categories.
One may not get a more exhaustive collection of wedding cards in Chennai, you may think. That is not so; at Anantmaya, we have an unbelievable collection of wedding invitations, one better than the other.
And unlimited possibilities for enhancing and value adding your card, to make it unique; never seen before, for your guests. Order your wedding cards Chennai from anywhere online and get it delivered at your doorstep.
Chennai, yet Delivery all over the world
Welcome to our wedding invitations showroom in Chennai! We are thrilled to bring you an amazing selection of luxurious and alluring wedding cards. If you're in Chennai, Mumbai, Delhi, Bengaluru, Erode, Coimbatore, Tiruppur, Madurai, we fulfill your order. Even in the USA, UK, South Africa, Australia, Sri Lanka, Malaysia, Singapore or anywhere else in the world, we've got you covered.
Ordering your dream wedding invitations has never been easier. Don't worry about unable to visit our showroom in Chennai. We will ship your choice of the best wedding cards right to your doorstep. Isn't that convenient? No matter where you are, we'll make sure you fill your special day with elegance and style.
Breathtaking Wedding Cards Collection
Our collection of wedding cards is truly breathtaking. We craft each crafted carefully with stunning elements that will leave you and your guests in awe. From traditional to modern, we have something for every taste and style. Our goal is to provide you with the perfect invitation that reflects your unique love story.
Not only do we offer a wide range of options, but we also ensure top-notch quality. We make our wedding cards with much attention to detail and the finest materials. Your invitations will not only look beautiful but also align with your tastes and preferences to bring out the best results.
When it comes to choosing the perfect wedding invitation for your son's or daughter's special day, nothing beats a personal visit. Seeing and feeling the invitations in person allows you to truly understand their beauty and significance that a video call simply can't capture.
Perfumed Wedding Invitations
And did you know we offer scented wedding invitations? Yes, that's right! Imagine adding a touch of fragrance to your invites. Is it the soothing scent of sandalwood, the delicate aroma of jasmine, the rich essence of oudh, or one of our other popular perfumes? The choice is yours. We have an extensive collection of cards available at various price ranges, so you're sure to find the perfect one that speaks to you.
Our wedding cards are not just ordinary invitations; they are of premium quality and finish with unique elements that make them truly stand out. From elegant designs to exquisite details, we craft each card with utmost care and attention. We believe that every couple is unique and their wedding deserves something extraordinary.
So come visit us today and explore our wide range of wedding cards. Let us help you find the perfect invitation that reflects your style and sets the tone for your special day. Because when it comes to making a lasting impression, our wedding cards do it literally.
Wedding cards that you love
When it comes to finding the perfect printer for your wedding invitations, it can be quite a challenge. But fear not, because Anantmaya is here to save the day! Out of all the wedding card shops in Chennai, Anantmaya at Mandaveli truly stands out. Our commitment to quality is evident in every aspect of our work. From luxurious designs to attractive elements, we offer an array of options that will surely impress you and your guests.
Visit Invites showroom in Chennai
In conclusion, if you happen to find yourself in Chennai, I would highly encourage you to pay a visit. All our wedding cards look luxurious and alluring, offering a wide range of options for your special day. Additionally, there are plenty of gifts and invitations to choose from, to ensure that you plan every aspect of your wedding perfectly. So why wait? Take advantage of the stunning elements that Chennai has to offer and make an informed decision for your dream wedding. We won't disappoint you!
Invitations delivered all over the world
Most importantly, we deliver the world over. So, even if you are a resident of UK, USA, Canada, Australia, South Africa, or anywhere else in the world, we service you with our unique and never seen before wedding cards from Chennai, India.
Did you know we have 500 varieties of box invitations at our Chennai invitation cards showroom? Checkout our special release wedding cards in the form of paper box invites too!
Here are some options that you can browse through.
Royal wedding invitations | Scroll invitations | Muslim wedding card | Acrylic wedding invitations | Lasercut wedding cards
Fix up an appointment for a more personalized service that would make your visit a satisfying one. Call/Whatsapp at +91-7824088999 for immediate and prompt attention at Anantmaya, Chennai's largest one stop wedding shop for your wedding invitations Chennai Anantmaya can make for you.