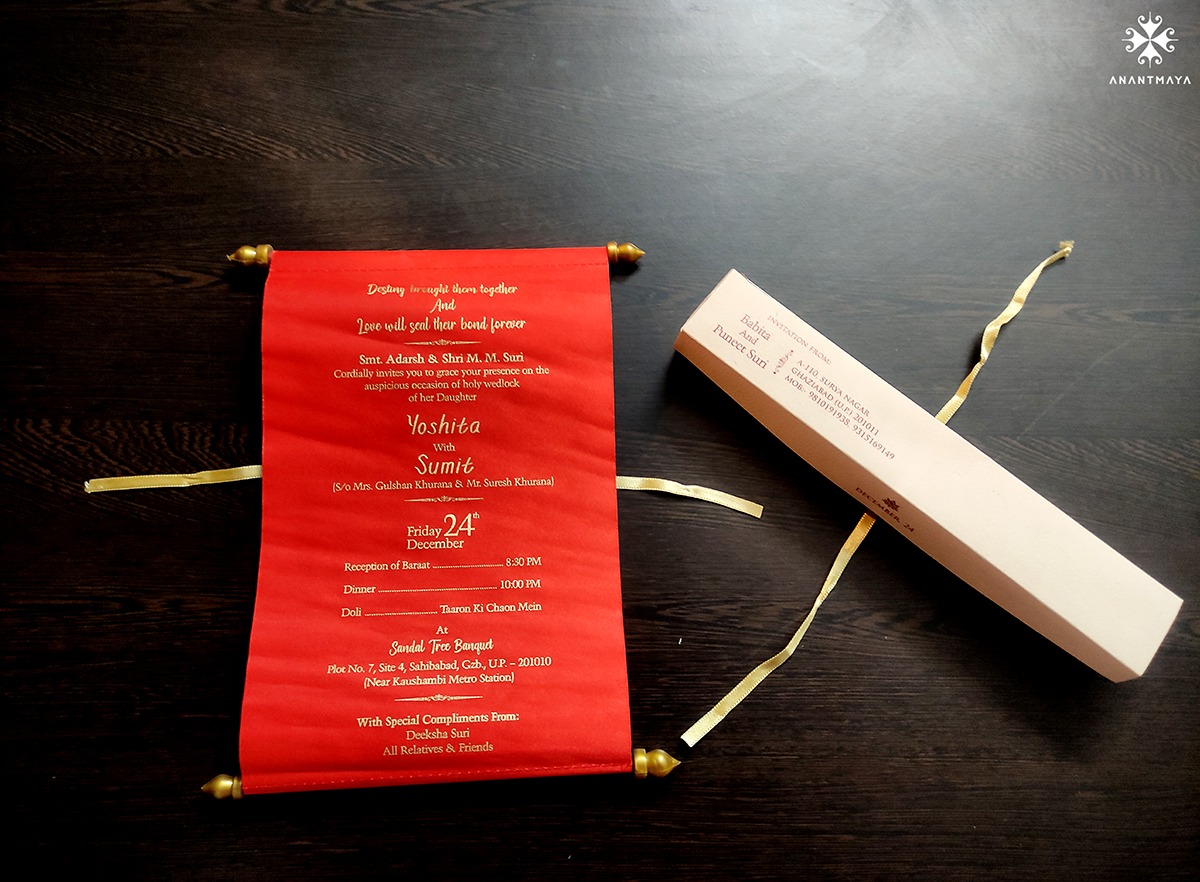 Who doesn't like history? We all love history. And, what better way to revisit history than to have a scroll invitation card for your wedding! The scroll itself is a fancy idea; whoever thought about it first. The opening of the scroll invitation box, taking the scroll out, untying the knot and slowly… revealing the contents. Wow, wasn't that dramatic!
Scrolls have been in use in Indian and South Indian weddings for as long as we know. They come in different shapes, sizes and models and are made out of different materials too. Some of us heard about scrolls for the first time in a Tintin cartoon :-).
Some of these are cards disguised as scrolls. The scroll type wedding invitations are suitable for all your occasions such as engagement, wedding reception, anniversary, house-warming of your new flat, inauguration of your new shop or venue and so on
Scroll Invitation Card Sizes
These scrolls come in sizes of approximately 10cm x 20cm and weigh about 20 gms; though the size and weight of your scroll may vary.
Traditional scroll type wedding invitations belong to the old custom of the traditional hand printed invitations. These scroll wedding invitations are suitable for people of all communities and are suitable irrespective of your religion.
If your schedule of the events is longer, we can even print on both sides of the scroll. Your scroll could be made of thin cloth, flexible thin paper board, silk, muslin and a variety of material.
Whether you require a mini scroll invitations, scroll with boxes or envelopes, premium scroll invitations for your wedding, we have it. In fact, we are one of the few all in one wedding stuff showrooms in Chennai.
Invitation Card Background Colour
Typically, it is a dark or bright background which is used for your scroll invitation card. The general choice of colours are purple, bright red, yellow, vermillion, orange, maroon and royal blue. Red and blue are fast moving. Options for the stick and box are plastic and wood.
Lagna Pathirikai
Get your Lagna Pathirikai in soft velvet texture and in fine finish from Anantmaya.
Traditionally, sharing a scroll invite gives you that exotic and royal feeling, as they were only generally used by the Kings of the past in their communication. We have a set of standard templates for you to choose from, which can then be customized to your liking. There are a stand set of images too, which you can choose from for your scroll wedding invitation. We are Anantmaya and our showroom is located at RK Mutt road. Please visit anytime; not only for scroll wedding invitations, but for various other paraphernalia; Anantmaya is one of the premier complete wedding services one stop showrooms in Chennai.
Our scroll invitations are available in mini size, standard size and large size. Do you want the elegant gold foiling in your invitation? Or do you want the wedding text with an embossed effect? Or a foil print with a hologram? Do you want a white invitation or a colourful one with a floral finish? Antique finish or creative hand-made scroll invitations with aged look and finish?
Scroll Invitation Card Price
Get the right price for your invitation card when you order with Anantmaya invitations. We welcome you into our showroom to have a first hand idea about our work and services. One look at our collection is enough for you to be convinced. Whatever be the price you are looking for, we have one for you.
Premium cards, not so premium to premium price, are on offer. Get your fancy looking card for a not so fancy sounding price. Come, visit us.
Scroll Invitation Card Online
Order your scroll invitation online with us, get on a video call with us to discuss your specifications. And we will deliver your finished scroll invite anywhere on planet Earth that has delivery services.
What kind of scroll rods do you prefer? Wooden, plastic, metal are all available. Even the string is customizable; the traditional golden thread or the silk or thick nylon; your preferences are taken into full account. These scroll wedding invitations come up at various rates too, for your convenience. These by default fall on the expensive side. But, choose one to your liking and we will provide you the best price for your scroll wedding invitations in Chennai.
Scroll Invitations in Fabric or Paper
Your scroll invitations could be in beautiful shining satin silk cloth or paper. You could choose between premium royal scroll invitations, vintage scroll wedding invites and many other options.
Royal scroll wedding cards, vintage scroll wedding invitations, fabric scroll wedding invitations, handmade scroll invitation cards, box scroll wedding invitations, birthday scroll cards or whatever else be your choice, we do your scroll wedding card design and print with fast delivery. Scroll card design is done by our in-house designing team and with immediate response to change requests, the designing process will also be right up to speed.
Whichever scroll type invitation you choose, you are 100% assured of the best services, as we keep you updated at every point of your scroll invitation design, approval, printing, packaging and delivery.
Our dedicated set of designers are always ready to further enhance the invitation with your and our creative thoughts to come up with outstanding scroll wedding invitations, with  fancy fonts and designs that we can use to embolden the product as we take it from raw to perfect. Come over and check our collection at our showroom anytime between 11am-9pm. An appointment would help us serve you better.
Theme based invitations like lotus invites, luxurious box invitations, open up 3d invitations, envelope type invitations, mdf board invitations, cardboard box invitations, paper box invitations and so on are also on offer.
Essentially, your invitation could be chosen from scroll invitations of different types, such as royal scroll cards, fabric scroll, with options to use different material for the scroll rods such as metal, wood or plastic as per your choice.
Your invitations could be enhanced and enriched using embossed, engraved and laser-cut content that would take your invitation to level next.
Do have a look at our other offerings on invitations here, for you to make an informed decision.
E Invitation | Box Invites | Simple Wedding Cards | Manjal Pathirikai | Muslim Wedding Card | Mandala Wedding Card Design | Kalamkari Wedding Invitation | Pastel Wedding Cards | Christian Wedding Cards | Scroll Invitation Card
In summary, get your scroll invitation card from the specialist's showroom with thousands of invitations to choose from, from the largest showroom in Chennai.
Visit Our Store
Behind every wedding tale there a thousand little anecdotes of love, laughter, sacrifice and a million emotions. Fortunate are the couples who are able to create an artistic memorabilia and not just an invite; which most accurately represents their journey until their D-day.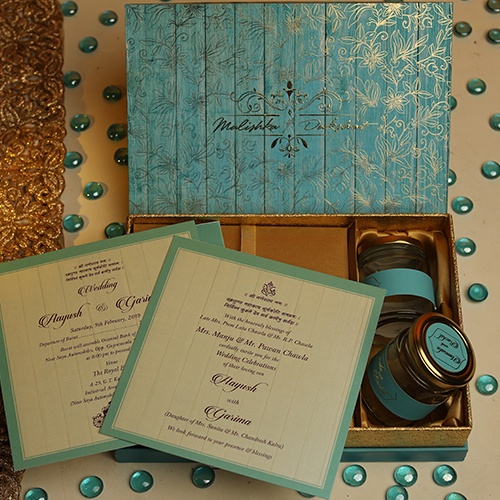 Bringing Ideas To Life
Behind every wedding tale there a thousand little anecdotes of love, laughter, sacrifice and a million emotions. Fortunate are the couples who are able to create an artistic memorabilia and not just a scroll invitation; which most accurately represents their journey until their D-day.
Begin your wedding journey with us