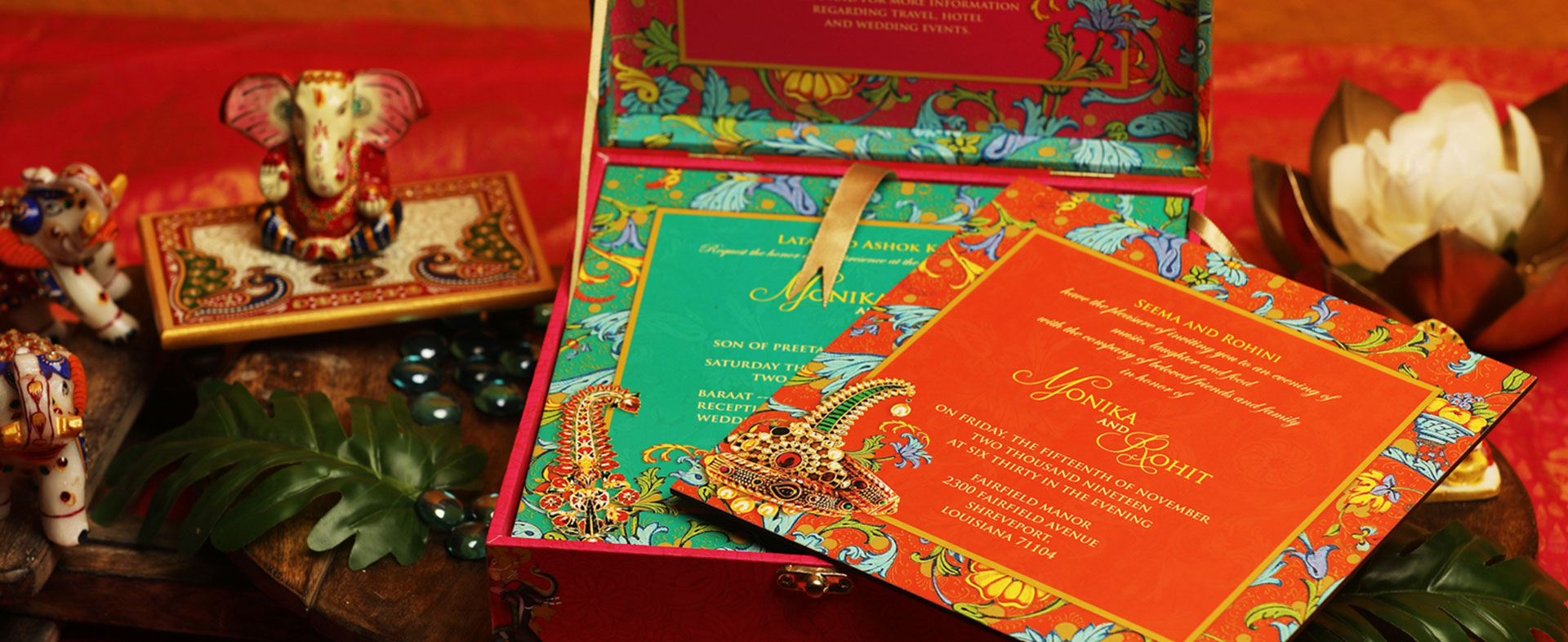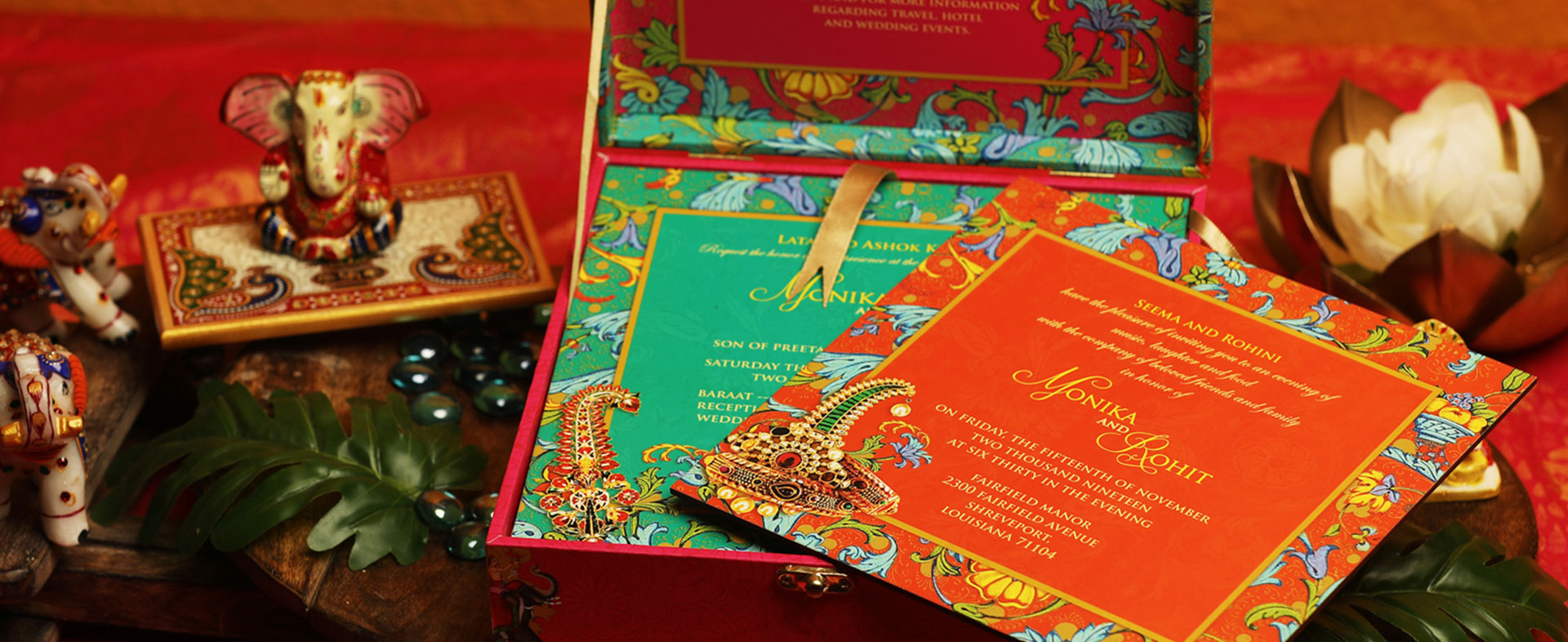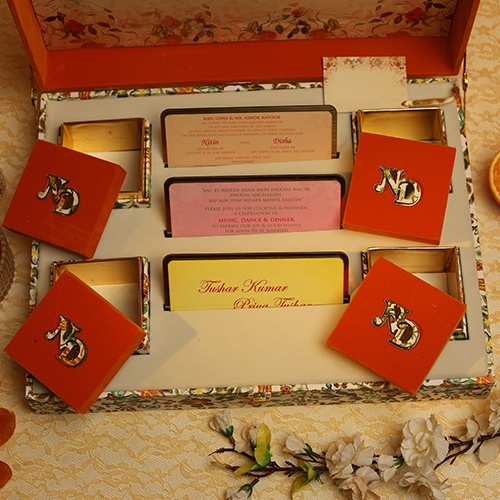 Wedding Card Theme
Why do you need an Invitation card theme? Along with the different color themes that we discussed, the wedding themes are in a way related, but are symbolic in their representation. Themes play an important part in customized invites. Different themes are considered to make the customized invitations unique matching the tastes of the couples and their families. Let us see some of the prominent themes used for customized invitations.
Kalamkari Wedding Card Theme: Kalamkari design draws inspiration from the tree of life, paisley, floral intricate designs, peacock etc. these represent glory and grandeur. It will also give a vibe of vintage look and traditional.
Kalamkari colors mostly involve earthy and elegant tones like red, blue, brown, mustard and algae green. It can be used in envelopes, design elements like floral, paisley, peacock etc. and sometimes even in your wedding invite sleeves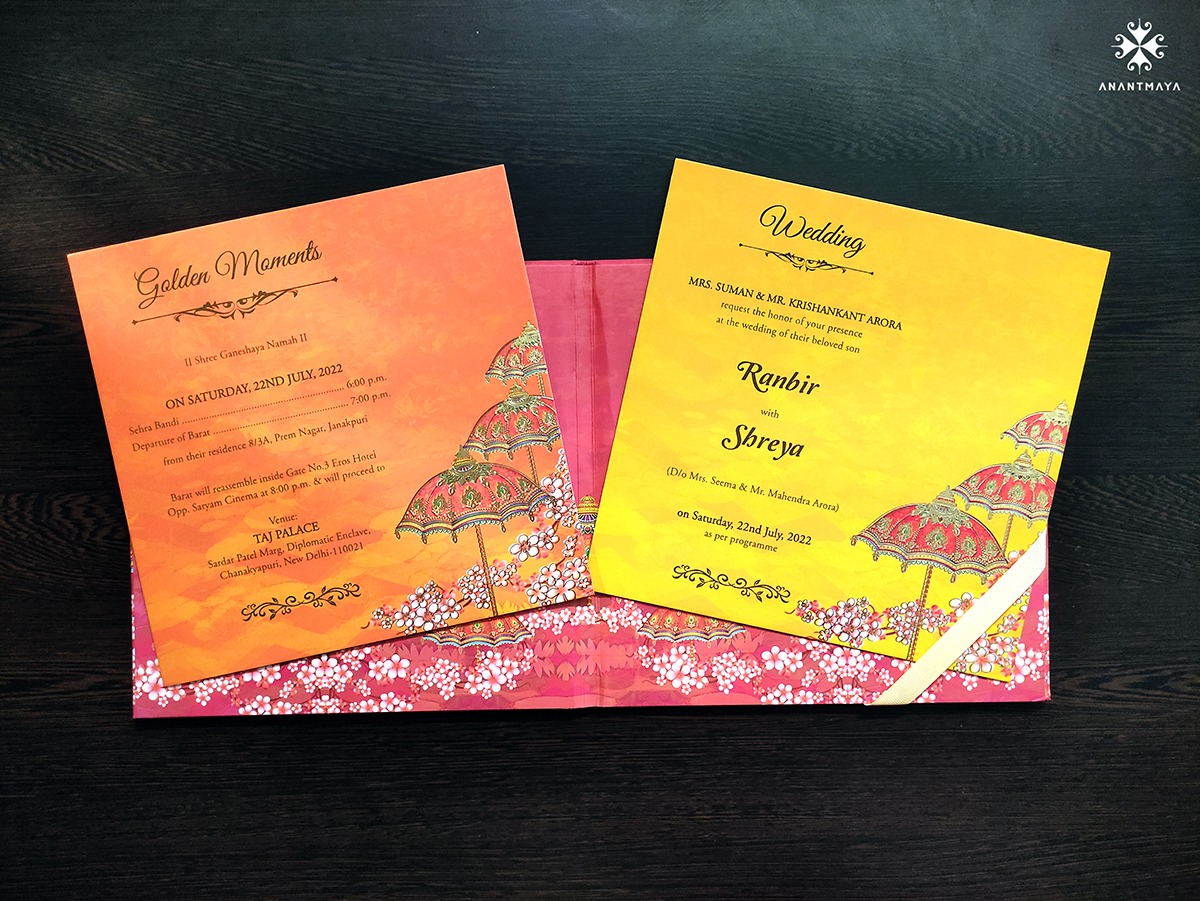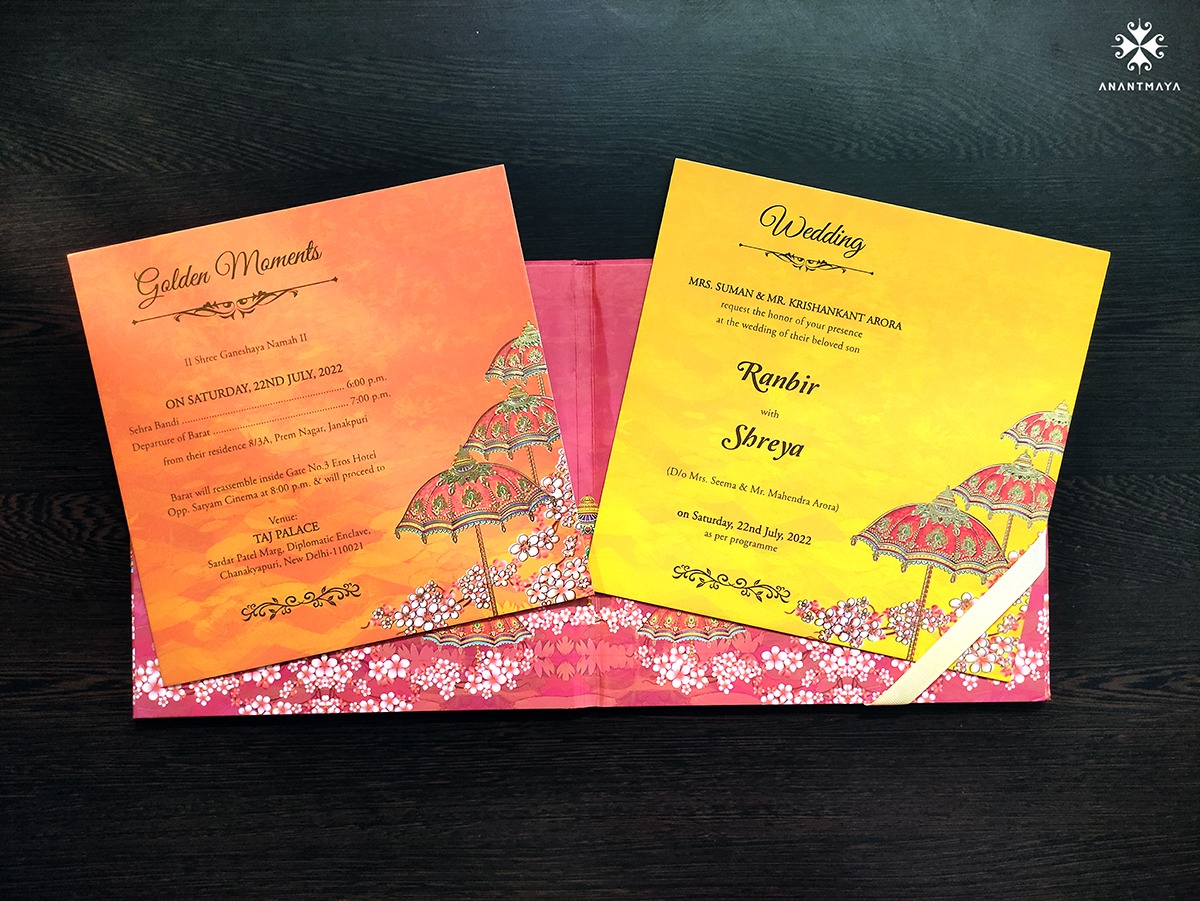 Madhubani Invitation Card Theme: Madhubani is a religious painting that takes inspiration from nature and Ramayana.This theme is perfect for people who are seeking an ethnic Indian theme with a contemporary twist- which brings out rich cultural heritage into beautiful designs.
Peacock Theme Wedding Card: Peacock theme is the design of prosperity and royalty. The popularity of peacock motifs in the modern times can be attributed to the fact that it makes for a beautiful graphic image too.
Paisley and ornate pattern theme: Traditional motifs like Paisley and Indian ornate patterns, not only makes the card look traditional, but it also makes the card look gorgeous along with an aspiring pattern very ethnic. This pattern with its colors gives an energizing vibe to the entire wedding.
Spiritual Emblems as part of Wedding Card Theme: These are the Spiritual elements like Omkar, Temple bell, Islamic Symbols, Christian cross, etc that gives the wedding invitation a touch of divinity.
Mandala Wedding Invitation Theme: Mandalas designs are those designs which are ethnic and add a traditional touch with their elaborate display. The vibrant colors and the traditional designs will capture the minds on whose hands these invitations will lie.
Pastels with Royal Wedding Card Theme: Pastel is the trend of the modern times. Pastel is the sign that elevates the design. Pastel when combined with royal will give rice to a premium blend and a lovely design.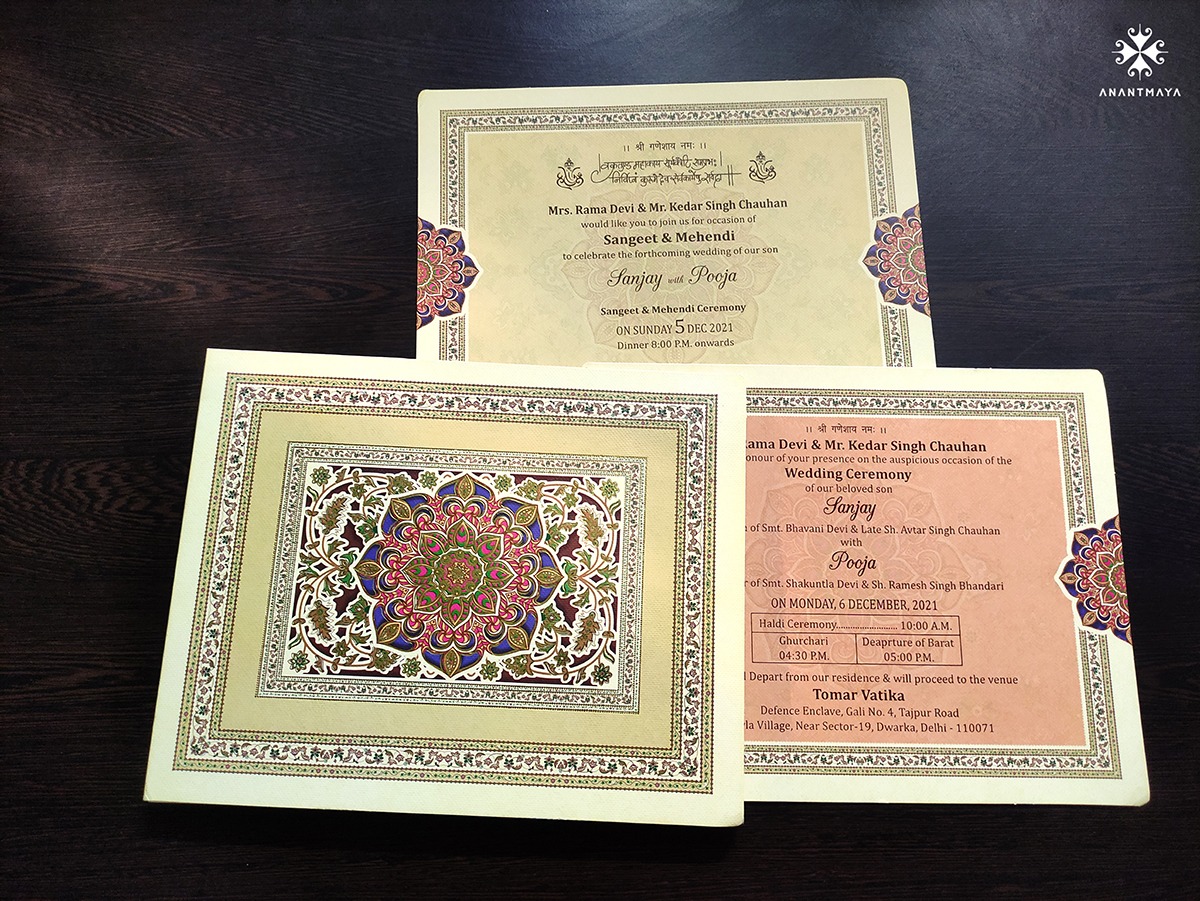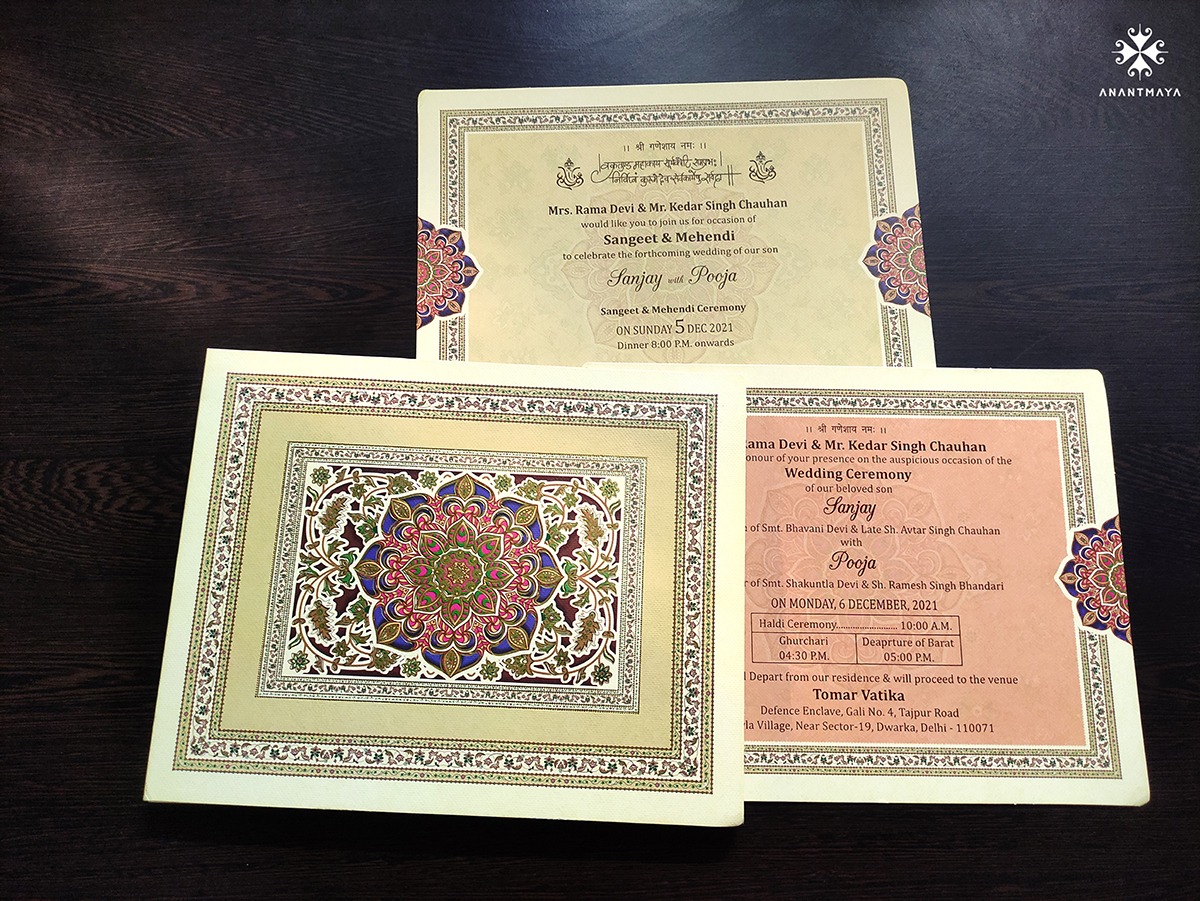 Shrinathji with Pichwai : Finest of all design elements and themes, the journey which explores design and story behind nathdwara and scours through Pichwai for the significant blend behind every element which is enriching. Use the design elements that have a strong symbolic reference to Shrinathji for the pichwai wedding card theme.
Other Invitation Themes: Some of the other invitation themes that are considered frequently are bollywood theme, sports and travel wedding card themes. There are people who love retro and swear by it; the retro theme invitation cards are meant for those retro theme lovers.
We have multiple designs and color combinations for your wedding invitation theme. We also have many options for wedding card themes to choose in your multicolor wedding card.
Every wedding invitation theme can also be presented differently by way of a variety of colors to choose based on your wedding theme and story. Connect with us, visit our store to get a first hand look at our invitation themes collection before you choose your wedding invitation with a unique theme from us.
Book Your Style Consultation
Fix an appointment and meet our team of style consultants in our office who will understand your exact requirements and help you make your design dreams come to life.
Visit our boutique
Walk into our store to explore a wide variety of pre-designed invite choices on display. You could place an order on the spot and get them delivered to your home within the promised time.
+91 7824088999
E Invite For Wedding, e Invite for Indian Wedding
when we have a wide collection of e invite for wedding, why would you want to spend time and energy on making e invites for your wedding.
In bygone days, it was always the printed invitation that was personally shared with friends and relatives, going from house to house and needless to say, it was a tiresome activity. In these days of permanent Internet connectivity, the e invites have become popular and somehow, people also don't seem to mind.
Getting an e invite, 10 years ago would have been unimaginable. But, nowadays everyone seems to understand the pains of delivering the physical invitations. Still, the printed invitation is printed in limited numbers to be shared with the near and dear ones, and for those who might take offense if an e invite for wedding was shared.
While in the topic of physical invitations, you might be curious to know that we have a collection of over 3000 invitation designs, if you have a requirement for a physical invitation; one better than the other. Come visit us.
We are at Mandaveli, just a few hundred metres from the bus stand; right on RK Mutt road; a huge wedding accessories and services showroom in two floors. If you are in Chennai, you should definitely consider visiting us. We not only sell invitations, but all kinds of wedding accessories, like the Kasi yatra set, all kinds of return gifts, aarthi plates, ring platters, paruppu thengai koodu, seer thattu, vilayadal set and much more.
Anyway, back to e invites. So, here's a collection of e invites for Indian wedding, to cater to your every taste; all are animated and ready to purchase.
Just make your payment for the design you like and we will ensure you are responded to as soon as possible and take it forward.
Generally, the response time is 24 hours, on working days.
Limited customisation is possible with this e invite for wedding video that you will be ordering online. E invite for wedding with photo is possible too.
If you want e invite for wedding in Tamil or Telugu, these e invites shown here, may be customised in the language of your choice.
You can choose from a variety of design options, colour and font options; what's more, you can even have your photos be part of the e invite.
If you do not like any of these e invites shown here, we can even customize your e invite to be a completely new design, according to your preferences.
So, are you choosing your e invitation card for wedding from this collection? Go ahead and choose your wedding e card from here, or get your unique e wedding card customized upon your taste.
It doesn't matter if you are in Chennai or not, we can service you anywhere around the globe. We can get connected over Whatsapp video or Zoom call to take your requirements, and deliver it within the agreed timeline.
Whatever be your choice, we can satisfy your requirements for e invites for Indian wedding; any design with animation is possible. Just let us know and get your e invite for wedding from Anantmaya.