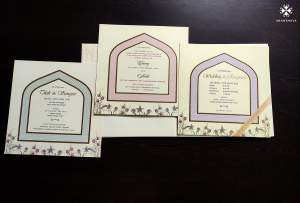 Invariably, it is not the content of our wedding invitation card that catches the attention of our invitees. It is the look and feel of our muslim wedding invitation card that makes an impression.
Though the wedding venue, decor, photography and videography and of course, food are important, the first thing that gets noticed by all guests, is the invitation card. And, a majority of us, do not pay much attention to this very important aspect of a wedding.
So, we decided to flood you with options from simple Muslim wedding invitations to royal looking invitations and everything in between. Whether you want a royal Islamic wedding card design, or a wedding invitation that is simple, we have it with us.
In fact, we have over 3000 wedding invitation card designs for you to choose from, not just Muslim cards, but in different themes, with many colour options.
Muslim wedding invitation card design
We have an in-house designing team, which will take care of your Islamic wedding invitation card design; right from the conception to the delivery, everything is done by us. This one stop shop for wedding accessories and products, from welcome gifts to return gifts, everything under one roof, will take care of your Muslim invitation cards requirements too.
What are the options available for your Muslim invitation card? There are popup cards, 3D invitations; and there shadi cards that are enhanced with depth effect; how about using pastel colours and vintage monuments, highlighted with gold foiling.
Muslim Wedding Card Format
The typical Muslim wedding card starts with the praise to the Almighty, followed by the parents off the groom/bride, the groom, the bride and then the invitation content, which is in the same format for almost all Muslim weddings. Many sample shadi card formats are shown in the gallery here.
A Variety of Wedding Card Types
How about your Muslim wedding invitation in the form of a scroll invite and placed inside a dainty box full of goodies, to be shared with your closest inner circle? All these can be enhanced with the various elements that make the Muslim invitation; namely the colour choices, the designs, the fonts, the material, all of these make your invitation elevate to the next level.
The curves and colours of Mughal art could play an important part in your muslim invitation card design. The arch designs of the Mughals will definitely give your wedding card a royal feel that it deserves.
Box Invitations
You can choose a box invitation that is colourful as it is useful. The benefit of handing out a box invitation on your Muslim wedding is that they don't get discarded, but get preserved. This means that you and your family get remembered and discussed, every time somebody looks at your invitation. Fabulous, isn't it?
We have unlimited options for your invitation card design and we can confidently say that you can get the best Islamic invitation card with us. Whether you want an acrylic box invitation, a laser cut shadi box card design, cardboard invites and many other options for you to choose from.
Our large wedding cards showroom (not just wedding cards, but a whole variety of wedding products) is at Mandaveli, just a few minutes walk from the Mandaveli bus terminus. We are open all days of the week, between 11am and 8pm IST. So, whether you are looking for a walima invitation card, nikah invitation card, bismillah ceremony invitation cards, muslim engagement card, or your muslim shadi invite in multiple languages, we have the wherewithal do it in style.
Box invitation cards with Islamic designs may be ordered from our showroom during your visit. If it isn't possible to visit, due to time constraints, get on a video call with our support staff and book your Muslim invitation card, from the comfort of your home or office. We can then refine and fine-tune your invitation card design and arrive at the final copy, before the invites are printed and ready for pickup at our premises.
Islamic wedding card design
The best looking wedding card templates are lying in wait for you. We have a regular supply of new wedding card designs that are seasonal and special. Additional card design is also advised to make your invitation special and one of a kind.
Whether it is your Nikah invitation card or Walima invitation card, we have customizable options to make your invite card a thing to remember. In fact, we have a sizeable collection of Nikah and Walima invitations for your pick.
Perfecting your Invitation Card Design
A variety of customization options are available to make your invitation card catch the attention of your guests. Gold foiling, silver foiling are some value additions that could make your card look regal. Text on the invitation insert could be embossed, debossed, with enriched texture for a vintage perspective. How about a royal Islamic scroll invitation to make an impression on your guests?
Laser cut invitations are common; yet we can make a noticeable difference in the presentation to make our invitation card look distinctly different. Talk to us over phone or Whatsapp us to get clarity on how to make your Muslim invitation special.
More wedding invitation options here.
E Invitation | Box Invites | Simple Wedding Cards | Manjal Pathirikai | Muslim Wedding Card | Mandala Wedding Card Design | Kalamkari Wedding Invitation | Pastel Wedding Cards | Christian Wedding Cards | Scroll Invitation Card
We invite you to our showroom to get a look at our Muslim wedding invitation card designs first hand before you decide.
Visit Our Wedding Store
Behind every wedding tale there a thousand little anecdotes of love, laughter, sacrifice and a million emotions. Fortunate are the couples who are able to create an artistic memorabilia and not just their muslim wedding card; which most accurately represents their journey until their D-day.
Begin your wedding journey with us