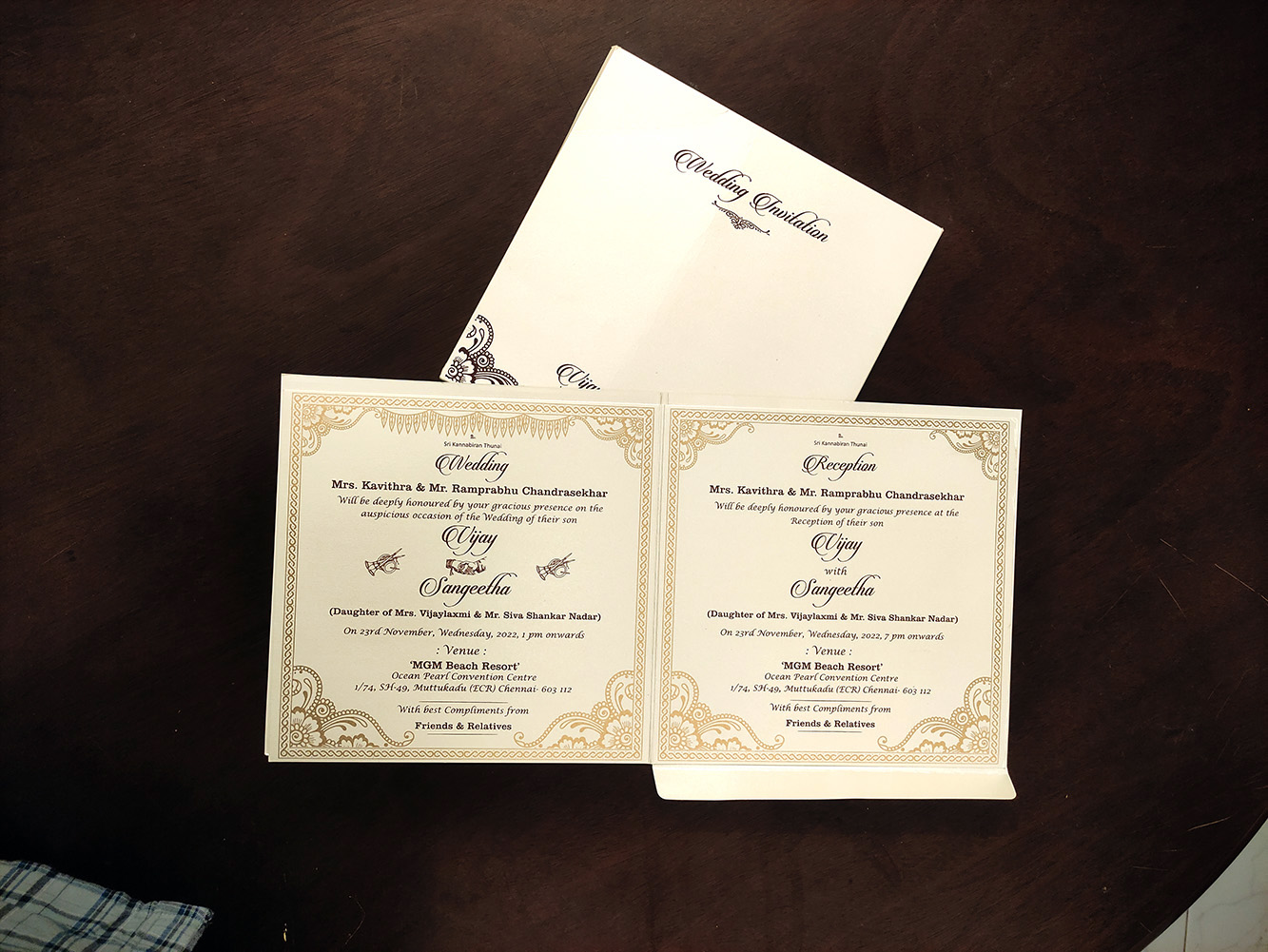 A simple wedding invitation is what we want. But, even simple wedding cards need to make an impact. You need to ensure that the wedding card that you share with your near and dear ones, keep in line with your requirement of being minimalist, yet look and feel different that they reside in the quick recall shelf of your brain.
We have many simple wedding cards that you may want to consider, in our showroom. We have the largest wedding store in Chennai, at Mandaveli, just a stone's throw away from the Mandaveli bus stand.
Visit Our Store
Behind every wedding tale there a thousand little anecdotes of love, laughter, sacrifice and a million emotions. Fortunate are the couples who are able to create an artistic memorabilia and not just an invite; which most accurately represents their journey until their D-day.
SIMPLE WEDDING INVITATION
We have a pretty big collection of simple wedding card designs for your simple yet impactful wedding. Our wedding invitation cards come in various shapes, designs, colours and themes. Choose your simple wedding invitation from our ocean of wedding invitation cards collection.
If you are looking for representation of deities in your card, we have many simple hindu wedding card designs for you to choose from. We also have a facility to print your marriage invitation in Tamil and other languages; just ask us.
We are in the creative field and love to be creative. Getting a simple and creative wedding card design for you is also on our agenda. Depending on the number of events that you have planned for your wedding, we can have as many inserts designed for you.
Each creative insert would be designed separately, in different colour cards, in different colourful borders, in beautiful creative fonts, with images of deities, florals, birds like peacock and symbols like the veena, flute and many other relevant elements that add value to your simple wedding invitation card.
We even have perfumed wedding cards that would elevate the consciousness of your guest and give them a feeling of happiness as they open the card and probably ensure their presence at the venue to bless the couple.
Our simple marriage invitation card are not really low cost, but they aren't expensive either. We give you scope to design your simple wedding card in any way that you imagine. For example, you could design your simple wedding card in a colour theme that reflects your wedding colours; the colours you choose for your decor; the colours of the bride's wedding sari; or colours from nature; such as blue, white etc., if it is a beach wedding that you are planning.
See, the limitations are endless. Just because it is a simple mariage invitation card, it does not mean that it has to also look simple. We can bring in as many variations that we want, to make it look grand and priceless.
Embossing, etching, laser cut designs are small improvements that would make our simple engagement invitation card look impressive. It is all in the creative element that we introduce in making the simple invitation card shine.
Talk to us and much better, visit us at our showroom to pick and choose your simple engagement and wedding invitations, speak to our wedding card specialist to home in on your choice of simple wedding invitation from our simple wedding cards collection.
Being your wedding journey with us