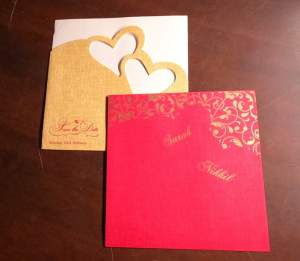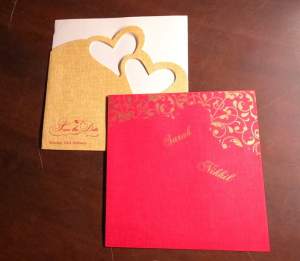 The standard wedding invitation is available at Anantmaya in many ready made and preset designs. These are blank cards that are designed already with only the print matter and the font style changes to be done to make it complete. Almost 90% of the people go for these type of invites as they are less time consuming and cheaper when compared to the customised invites. Standard invites come in different patterns and designs for different cultures and religions.  There are pros and cons for Standard Invites.  If we take the pros, they can be delivered quickly and are economical.  The downside is that we are left with no choice of alterations except the font type and print matter.
What is a standard invitation?
Readymade /a standard wedding invitation is readily available in online or stores, where you can order the quantity that's required for you. You can order ready-made wedding invitations at the last minute (2- 3 months) before the wedding.  You can just add your contents without changing its core designs and colour.  There can be changes in font style and layout.
Are they budget friendly?
Standard invitations have a wide range of budget choice, you can choose your invitation based  on the quantity required.  The cost of invitation actually depends upon the quantity, the lower the quantity of invitation higher will be the cost and the vice versa.   It also depends upon the type of printing you choose.
So it's wise to decide the quantity before purchasing the invitation or stationery for your wedding.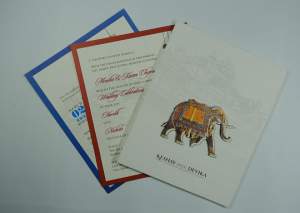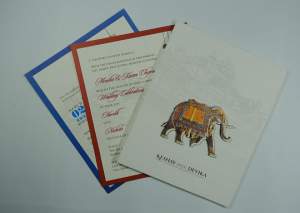 How much time is required for readymade cards?
The time required for making readymade invitations depend upon the quantity and type of printing you choose. Approximate time will be  
1 – 2 weeks from the date of approving the content after proofreading.
Standard invitation size
Traditional standard invitation comes in square and rectangle.  It may vary in different sizes. (for example square invitation can come in 7" by 7 ", rectangle 7" by 5") there is something called customize size which is in between size of standard invitation.
Types and trends of Standard Invitation.
A lot of new trending colours and designs have been incorporated into the Standard wedding Invitation collection.  Let's look at some of the trending standard invitations.
1. Types & Designs
Standard Invitations are divided into different varieties and categories based on the type, design, Shades and themes.
Types
On the basis of type, a standard wedding invitation may be divided into 
a. Book type and b) Card type c) Scroll type
a. Book type Invitation
:
Book type Invitations are those that look like books when folded. They usually come with one or more inserts.  They are further differentiated on the basis of shades and themes.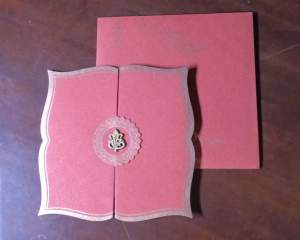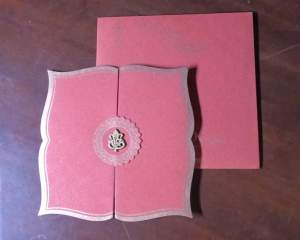 b. Card Type Invitations:
  These simple card types of Invitations don't have any folds, they are just simple cards that are inserted in the envelope and distributed to the guests. 
c. Scrolls:
These are a special type of invitation that looks like a scroll.  The paper or wool is attached to 2 rods on both sides,  The sides of the rods are beautifully decorated and designed.  The scroll thus made is kept in a handcrafted or decorated case adding richness to the outlook of the Invitation.  Scroll invites give a royal feeling to the wedding ceremony.
2. Designs and Themes
On the basis of Designs Standard Invitations can be divided into Plain designs, Laser Cut designs, Padded designs and Floral designs.  Each design is further classified on the basis of themes.  Some of the important themes are floral themes, royal themes, vintage themes, etc., 
a. Laser cut designs
:
Laser cut designs are one of the most sought designs.  In this type the envelope or the wrap of the Invite are beautifully decorated with laser cut designs.  Laser cut designs are done on Art boards as well as on wooden invites.
 b.
Padded Designs
:
These are just normal invites that have a padded    texture on the outer of the invites. Although the design itself is quite outdated, it is still desired by some people.
c. Floral Designs
:
Floral patterns and designs are especially loved by people throughout the world.  Floral patterns give delight for the eyes.  A colourful floral theme gives the wedding invitation an appealing look.  Floral designs are indeed unique to Romance.
d. Themes
:
Apart from pattern and design, standard Invitations are also classified on the basis of certain themes.  Famous themes that are used throughout are the themes that are based upon pastel, devotion, royal and Romance.
3. Religion
Religion plays an important part in the design and wording of the card.  The number of Inserts to be used, colour of the invite, theme etc., are influenced by the religion.  In some religions there are different types and wordings for the wedding Invite and each sect and subsect within a religion may adopt different styles.  Some Hindu religions have multiple ceremonies and require cards for each of the ceremonies.  The themes, fonts and colours do go hand in hand with different religions.  Some of the popular invitations apart from the wedding invitations that are based on the Hindu religions are Upanayanam cards, Sacred Griha Pravesh card, Naming ritual card, Walima card, First Holy Communion card etc.,  There are different types of cards used throughout the world like Hindu Cards, Muslim Cards, Christian Cards, Jewish Cards,Sikh Cards etc. Let's look at each of them in detail.
a. Hindu Wedding Invitation cards
Wedding cards are the key factor in the overall wedding preparation for a Hindu marriage. Various patterns and types of invites suiting the mind sets of various communities is available.  Recently there is a steep mind shift from the conservative to the modern designs which are seen predominantly in choosing the cards.  This has been made possible with the usage of different types of papers and excellent craftsmanship.
Islamic invites or Nikaah Cards are usually elegantly simple to vibrant and colourful. Different types of papers like metallic papers and rich textured papers perfectly coordinated with stationery RSVP and Thank You cards are also used. The designs of the Islamic Cards usually vary depending upon the ethnic background of the Muslims, region and culture.
 In Islam, marriage is considered as a very sacred event and there are various customs and rituals associated with it.  Every marriage ritual has its own importance and a deep meaning behind it. Every decision related to marriage must be performed according to these rituals. This also applies to marriage invitations and hence Islamic marriage invitations hold an important position in the marriage function.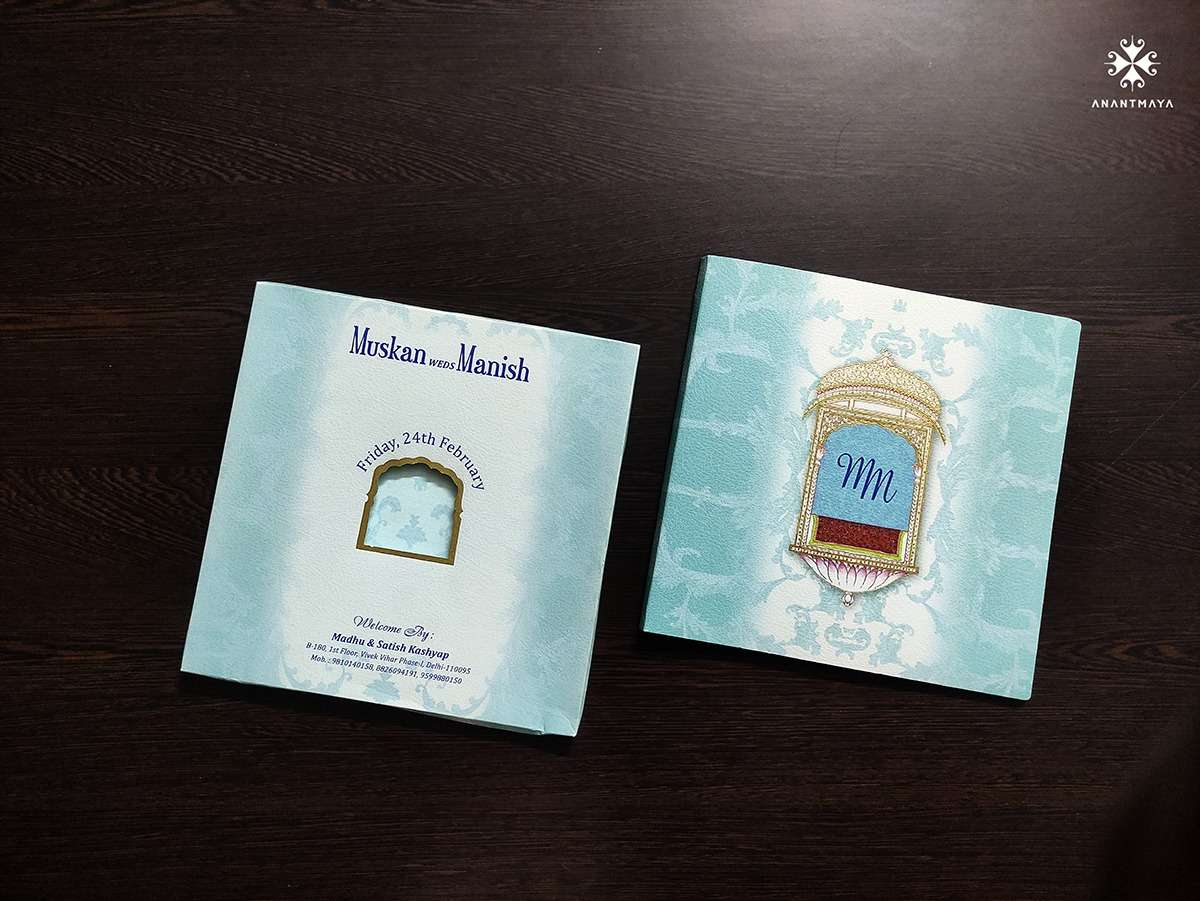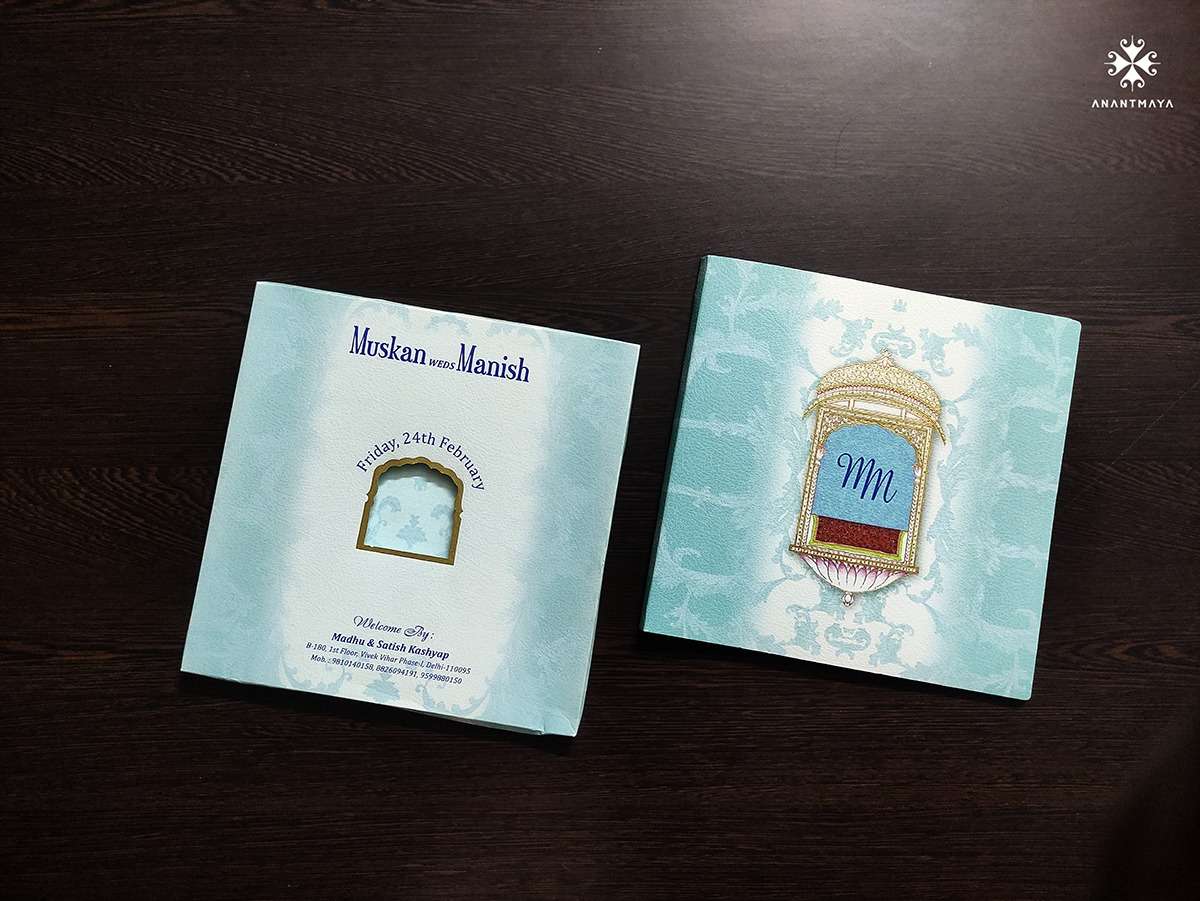 c. Sikh (Punjabi) Wedding Cards
The Sikh wedding cards represent the colourful, joyous and vibrant mood of Sikh marriage events.   The Punjabi wedding cards evolve around the   traditional to modern designs in the variety of papers, handmade papers and rich textures with great workmanship.  
For a Christian wedding, invites are not just a social etiquette or a status.  It is wishing oneself Godspeed for the start of a new life.  The invites are a blend of traditional old fashioned Victorian twist iced with an adorable fairy tale sort of imagination.  Stencil and unique lace designs are used as a perfect combination.  It is a picture perfect display that is both authentic and elegant.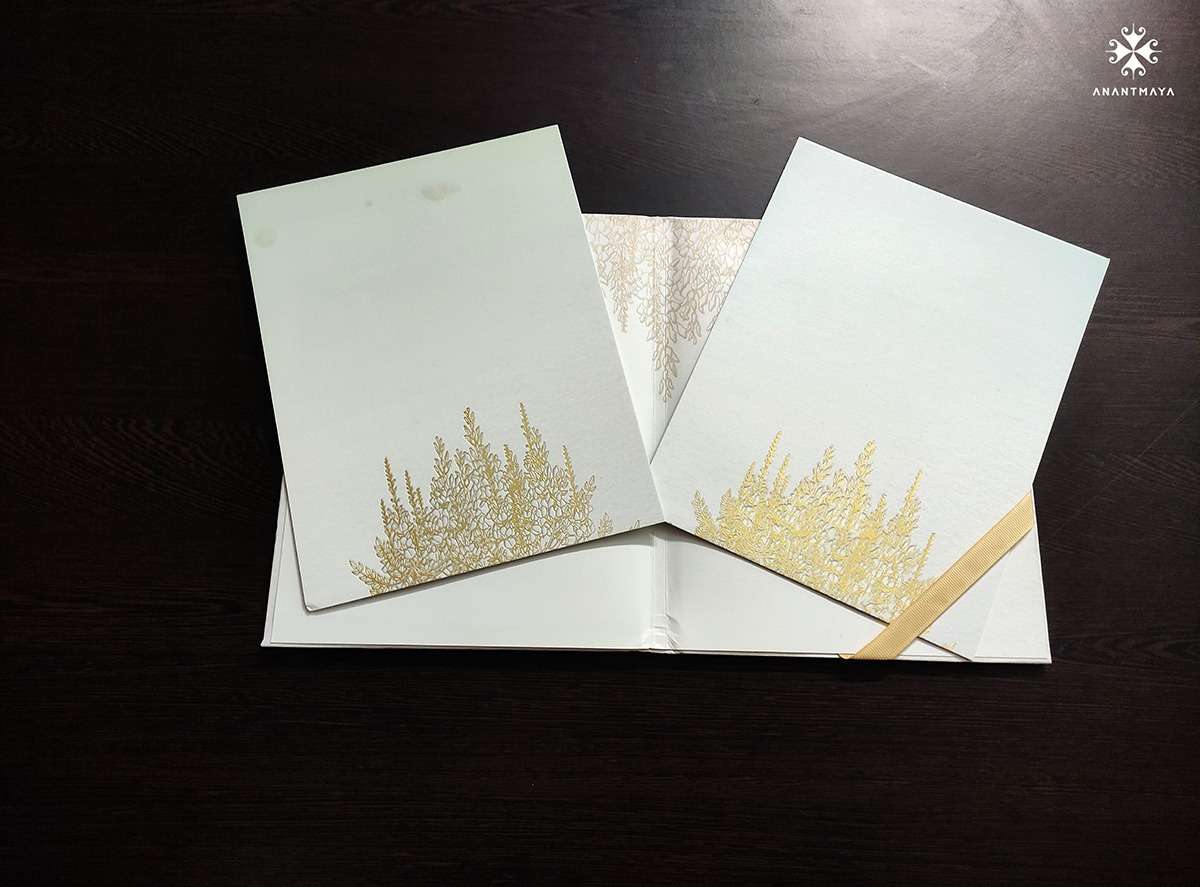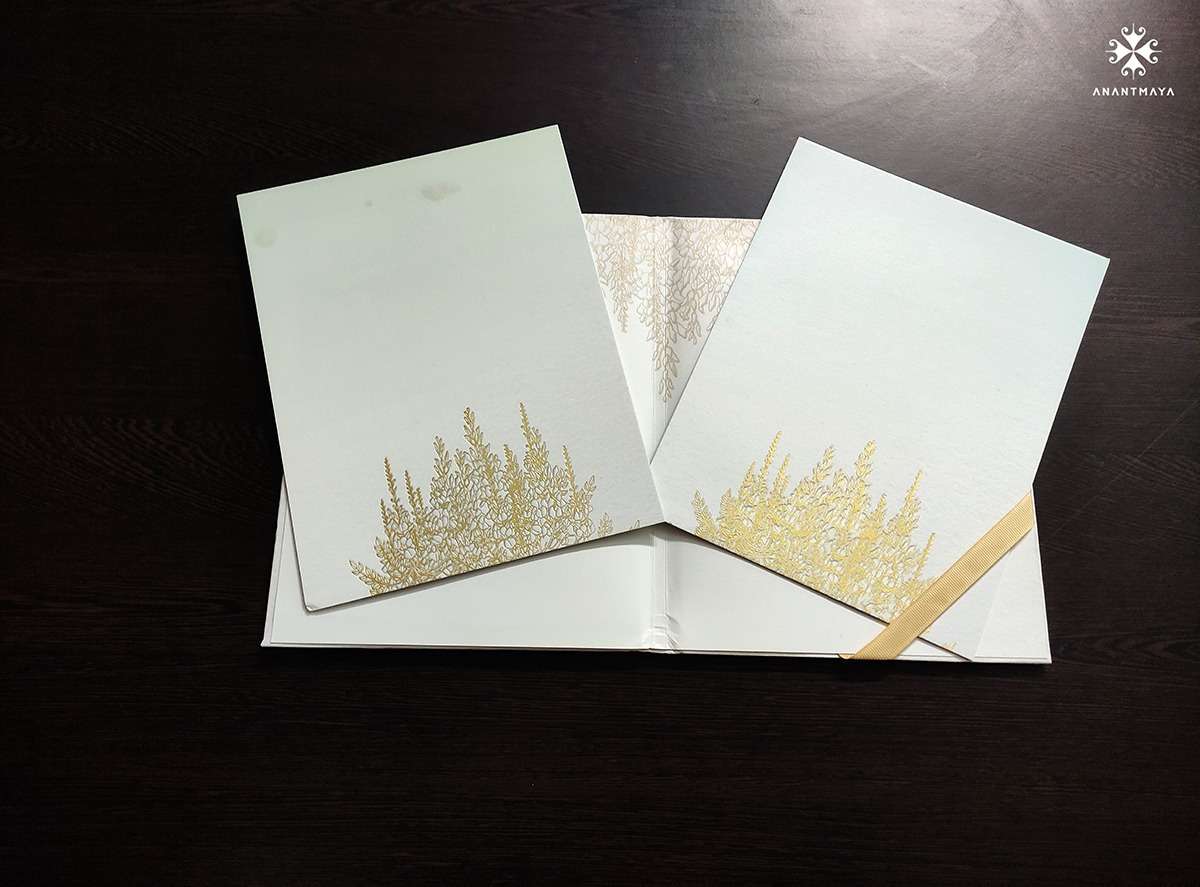 e. Multi Faith Designer Cards 
With Globalization taking the centerpiece in everyone's mind an amalgamation of multi faith wedding invites have taken deep root today.  These cards bear unique but conventional motifs regardless of whether they belong to a Sikh, Muslim, Christian or Hindu marriage.  The intricate designing and graceful decorations not only make the cards attractive and eye catching but also very trendy.
For your standard wedding invitation, visit our store with a collection of over 3000 designs for you to choose from.
For more information please check our Digital Book on wedding Invites, Stationeries and Gifts
Begin your wedding journey with us