Silver Jubilee Invitation Card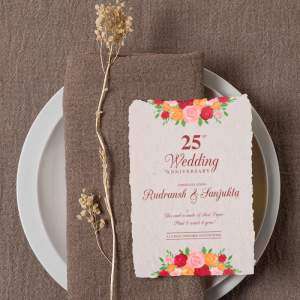 25th Anniversary Invitation Card
We at Anantmaya, have a variety of silver jubilee invitation card collection for you, to make your preferred choice. 25th wedding anniversary invitation cards are many and every one of us have a special affinity to certain colours and designs for the cards.
Make your 25th anniversary invitation card a special one, with a lot of creative content, by way of caricatures, special moments captured as images or as captions.
We have many options for you at our showroom at Mandaveli, Chennai.
I AM OVERSEAS/OUTSIDE CHENNAI. WOULD YOU DELIVER TO MY ADDRESS?
Of course, you are. Of course, we do. Wherever you are in the world, let us get on a video call to show you our collection. Once you have shortlisted your choices, we can share the detailed photos of your preferences and then take it from there.
Not to worry, our special selection is for all, as we deliver your silver jubilee anniversary invitation card all over the world.
Silver Jubilee Invitation Card Ideas
For silver jubilee invitation card ideas, you can visit us and have a look at our collection to get clarity and focus on what you are looking for in your anniversary invitation card.
We can fine tune the design of your 25th wedding anniversary invitation card, after you choose the base variations.
WHY IS 25TH ANNIVERSARY CARD IMPORTANT?
25th marriage anniversary or silver jubilee is an occasion to cherish and it helps in developing sweet memories when you start your creatives with the silver jubilee invitation, which is the one thing that your guests lay their hands on first.
SILVER JUBILEE INVITATION CARD IN HINDI, TAMIL, TELUGU
At Anantmaya, we can get your marriage anniversary invitation designed and printed in your favourite language such as Hindi, Tamil, Telugu or your favourite lingua.
Here are some invitation card options.
E Invitation | Box Invites | Simple Wedding Cards | Manjal Pathirikai | Muslim Wedding Card | Mandala Wedding Card Design | Kalamkari Wedding Invitation | Pastel Wedding Cards | Christian Wedding Cards | Scroll Invitation Card | Hindu Wedding Card
If you are in town, we would recommend a visit to our grand wedding accessories showroom, which should give you the opportunity to browse through our collection and make an informed choice to pick the card for your silver jubilee celebration. Call us up before you visit and we will have a specialist to receive you and guide you through our vast collection of invitation cards to pick and choose your 25th anniversary invitation card or silver jubilee invitation card.
Visit Our Store
Behind every wedding tale there a thousand little anecdotes of love, laughter, sacrifice and a million emotions. Fortunate are the couples who are able to create an artistic memorabilia and not just a silver jubilee invite; which most accurately represents their journey until their D-day.
Begin your wedding journey with us