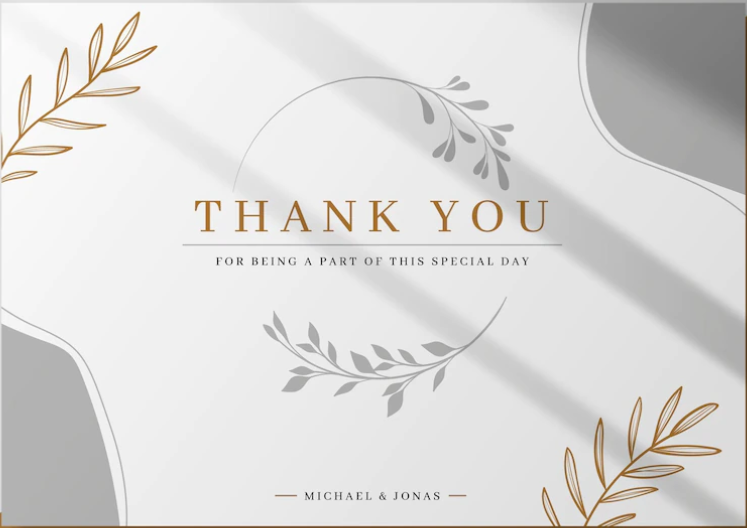 Thank you for attending the wedding is the standard wording in most of the thank you cards for wedding.
Of course! If you are planning a wedding in a big way, then you would know how difficult it is to plan a wedding. Here is a short introduction to wedding planning that we stitched together during the Covid lockdown period.
At Anantmaya, we know that even the smallest of things need to be in focus. For that they need to be written down somewhere. And these wedding thank you cards are definitely one of the most important things to do, before the wedding.
Our guests remember every single gesture of ours and it becomes important to us that we end the grand wedding on a sweet note. So, a thank you note for wedding guests is an important act on our part to appreciate their taking their time to come and bless the couple. This is especially true for destination weddings.
This thank you card can be worded appropriately and finalized after a few iterations. You may want to design your wedding thank you card yourselves, or choose from a set of thank you note templates that we already have.
It goes without saying that your "thank you for attending wedding" note is completely customizable, the thank you card, the design, the colors, the content, all of it.
This thank you note is shared after the wedding is over and after the guests have left or are leaving the venue.
Wedding Thank you Cards
Finally after the end of the Big Day, it is obligatory for the hosts to thank the guests for coming and being a part of the wedding. Thank you cards are usually sent at the earliest after the Marriage is over, after the guests have left or as they are leaving. These cards usually follow the theme of the Wedding invitation.
Visit Our Store
Behind every wedding tale there a thousand little anecdotes of love, laughter, sacrifice and a million emotions. Fortunate are the couples who are able to create an artistic memorabilia and not just an invite; which most accurately represents their journey until their D-day.
Being your wedding journey with us