Customized Luxury Wedding Card with Box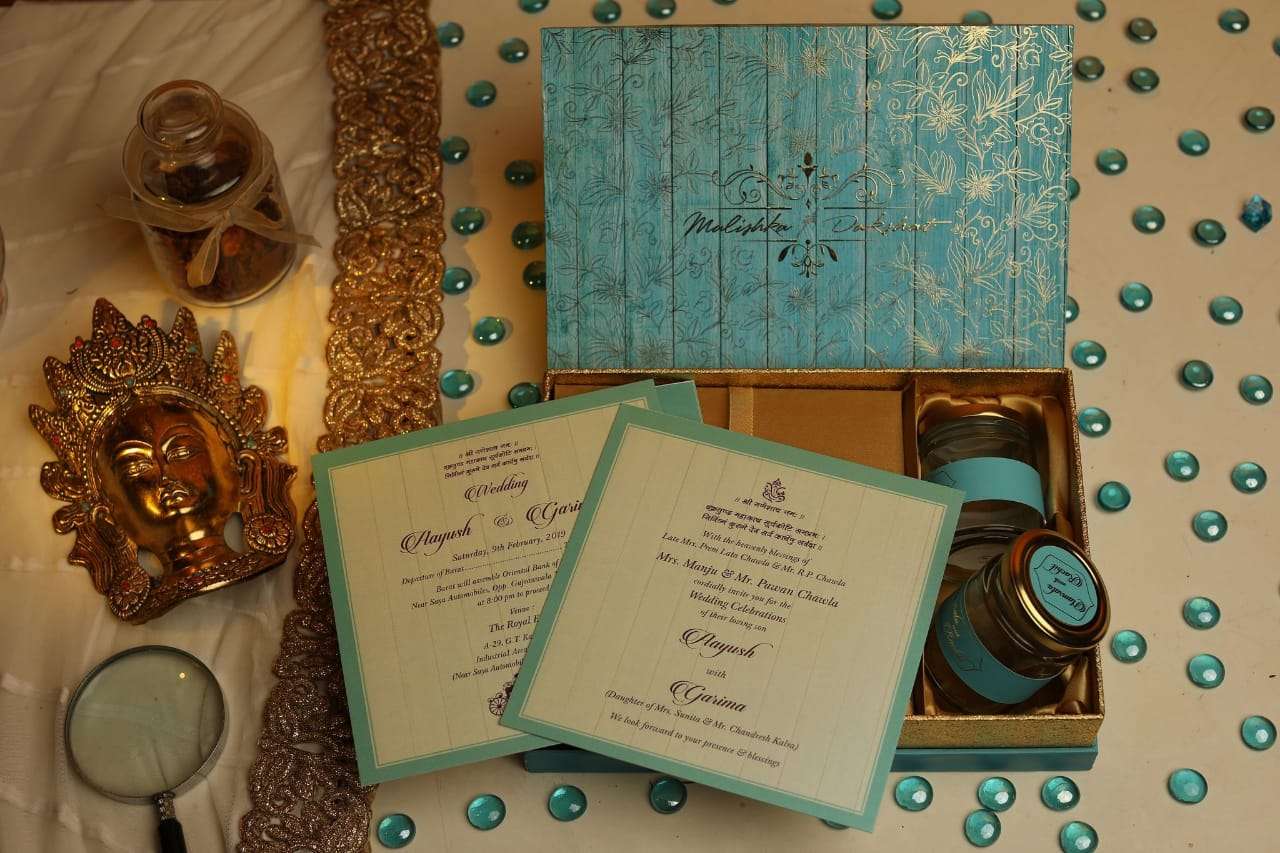 Luxury wedding invitations in boxes
What can be more impressive than a wedding card with box to announce your extraordinary wedding? Another wedding invitation box, of course. Yes. We have hundreds of choices for your wedding card box design.
This is the best way to invite your nearest and dearest. Your wedding card with box, containing your wedding invitation card, with compartments where you can show and share your love and affection with sweetmeats; nuts, chocolates and other exotic items to please your guests.
Your special wedding card is a luxury to receive, handle. Because they can be reused, they are usually never discarded, due to their regal looks.
Visit Our Exclusive Wedding Card Store
Behind every wedding tale there a thousand little anecdotes of love, laughter, sacrifice and a million emotions. Fortunate are the couples who are able to create an artistic memorabilia and not just your wedding card; which most accurately represents their journey until their D-day.
Box Wedding Card
Box invitation are slowly picking in popularity all around. So, whether you are in Chennai, Coimbatore, Bengaluru or elsewhere, we can ship your unique wedding card with box at  your doorstep. We have many readymade designs for your wedding card box, which look royal all the way.
We have provision to customise your wedding invitation design if you wish. The design on the box outside matches with the invitations that are designed and printed and placed inside. Similarly, the gift items that you wish to place inside the wedding invitation card box, also contain the labels and designs that match the box card. The colours and theme could be based on the theme for your wedding.
There is always, well mostly, a tagline for the couple, which could be the logo impressed on top of the wedding card box.
WEDDING CARD WITH DRY FRUITS
Dry fruits are among the many item that are placed inside the card box. Nuts, spices, tea leaves are other items that have been part of our wedding invitation gift boxes. In a special case, we included mountain sourced honey as the surprise gift item inside the wedding card box. The point is that within the space limitation, anything could be included that catches your fancy.
Box wedding card design
You may wish to choose your wedding card design from our collection. Alternatively, we can make a unique box wedding card design for you, exclusively. We had recently done one such one of a kind design for a Christian wedding. In the colour of gold dust, the lid of the box invitation was in the form of a gift wrap tie, opening to contain the wedding and reception invite cards, with the choicest of edibles to surprise their guests.
For more wedding card with box ideas, do connect with us. We are flush with ideas to make your invitation like never seen before, one of a  kind. Send us a message on Whatsapp to open up the flow of ideas to make your card the best ever.
ONE STOP SOLUTION
We just don't sell you the box wedding card alone. We provide you with a complete solution. We offer you hundreds of designs for wedding invite to choose from, we design your wedding invitations, we print your invitations and we source the material, whether it is sweets, honey, spices, tea or coffee that goes inside your wedding invitation gift boxes.
Once that is done, we elegantly pack your wedding invitation, with your royal invitation card box design and deliver it to you intact.
All our box invitations are of the highest quality and maintain international standards, worthy of royalty. You can order your wedding card online with us, and get all the transactions done, even without you visiting our store. You make an online payment and your luxury wedding invitations in boxes reach you right at your doorstep.
All our wedding invitation card boxes go through a strict process of quality control, in every stage of production. We ensure that every box that you receive is of the same quality, the first one till the last one.
We also have those special bridesmaid invitation boxes, the larger boxes for Christian weddings, given away to bridesmaids with thanks. We have the most expansive set of box invitations in our gallery at our exclusive wedding store at Mandaveli.
The price of your box invitation is dependent on your choice of material, design, size of the boxes. Do get in touch for a video Whatapp call where our specialist could run you through our collection for your reference. To complement your exclusive box invitation, we can also make you an animated e-invitation, specially made for you.
Whether you want a wedding invitation card with sweets, savouries, fruits or nuts or anything box, get in touch with us. Our name is our guarantee. Come, and take a look at the Anantmaya box wedding invitation collection for your wedding card with box selection.
Begin your wedding journey with us