Indian Wedding Invitations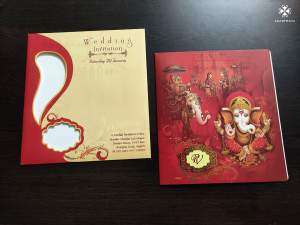 Indian Wedding Invitations
In terms of colour choices, varieties and designs, drawing inspirations from all over the world, Indian wedding invitations have always been special. At Anantmaya, we have an exclusive collection to choose from, for your Indian wedding card.
Whether you are in UK, Canada, USA, Australia, South Africa, or anywhere in the world, we service you with our unique and never seen before wedding invitations from India.
3000+ Indian Wedding Invitations
As I said, we have a huge collection of 3000+ preset Indian wedding card designs from our exclusive wedding invitations collection. We can get on a video call, where we can show you our collection, under various categories of invitations.
Most of the designs can be modified minimally, to suit your preferences and convenience, based on your budget.
When printing your Indian wedding invitation cards, we can print in Telugu, Tamil, English or any language of your choice. We are at all times with you, right from choosing the design that most appeals to you, to customising your card, finalizing it and then printing it all. If you are outside limits, we can even arrange to courier your invitations to your postal address.
We are armed with a team of experienced professionals who are available to service your wedding invitations requirement. We are with you at every stage till the marriage invitation is printed to your complete satisfaction. As part of a large network of wedding professionals such as Marriage Colours and Atlhea, we are a professionally run organization. with complete transparency in all stages of your wedding invitations.
Best Indian Wedding Invitations Online
We keep only the best Indian wedding invites collection in our stock. And, you get a set of unique designs, every season. Let's plan to get your wedding invitations online, right from day one, when you will be connecting with us. You can get in touch with us over telephone or Whatsapp call. On the video call,
We can showcase our collection, which will help you get your inspiration for your wedding invitations. This video call will help you choose your wedding invitation. We can then have your content finalized over the Whatsapp group, which we will create immediately after order confirmation to ensure a smooth and transparent process.
Once your order is confirmed, the design finalized and bill is paid, your order is processed, printed and delivered to your doorstep. If you are in the Chennai, please visit our showroom, browsing through our collection of cards and other wedding products. Take your time to make your choice, based on the designs, colours and your budget.
Unique Wedding Invites
We have a unique collection of Indian marriage cards, for every budget.
Your Indian wedding invitation cards are delivered Worldwide.
Whether you are a resident of India, USA, Canada, South Africa, Australia, UK, UAE or wherever, Anantmaya is capable of making you happy. We deliver all over the world; wherever you are; whatever your requirement; timely delivery guaranteed.
Value Additions, Enhancements to your Wedding Invitations
Your Indian wedding card design could be enhanced and enriched using various printing techniques. Embossing, engraving, laser cutting are all some of the techniques which are used to create a special invite for you.
Indian Wedding Card
An Indian wedding card, as you know is known for being colourful and eye catching. We have a completely transparent process of designing your card and responsively completing your wedding card design in quick time.
We are available online during working hours to make the necessary corrections, finalize your card design and send it to print immediately.
This process saves us a lot of back and forth time, as compared to offline design. Get your Indian wedding card, 25th anniversary invitation card, engagement card or your modern indian wedding invitation from Anantmaya; satisfaction guaranteed. The exhaustive number of positive reviews by our clients would vouch for our professionalism in printing your cards.
Whether you are looking or south Indian wedding card or north Indian wedding card, we are only focussed on providing you the best Indian wedding cards.
For best quality Indian wedding card printing, for handmade Indian wedding cards and Indian marriage cards overall, Anantmaya is your destination.
Ideally, your Indian wedding card would be chosen from our collection, your "Indian wedding card design" done with the help of our design team. Printing has very many choice options to make your invitations look grand. You can opt for premium and unique Indian wedding card design, in material such as box, mdf, hdf boards, cardboard boxes. They really look grand, if you have the intent to project your personality through your special wedding invitations.
Welcome to the world of Anantmaya, for not just Indian wedding invitations, but a special, unique, personal and heart-warming experience.
Visit Our Wedding Store
Behind every wedding tale there a thousand little anecdotes of love, laughter, sacrifice and a million emotions. Fortunate are the couples who are able to create an artistic memorabilia and not just an invite; which most accurately represents their journey until their D-day.
Begin your wedding journey with us