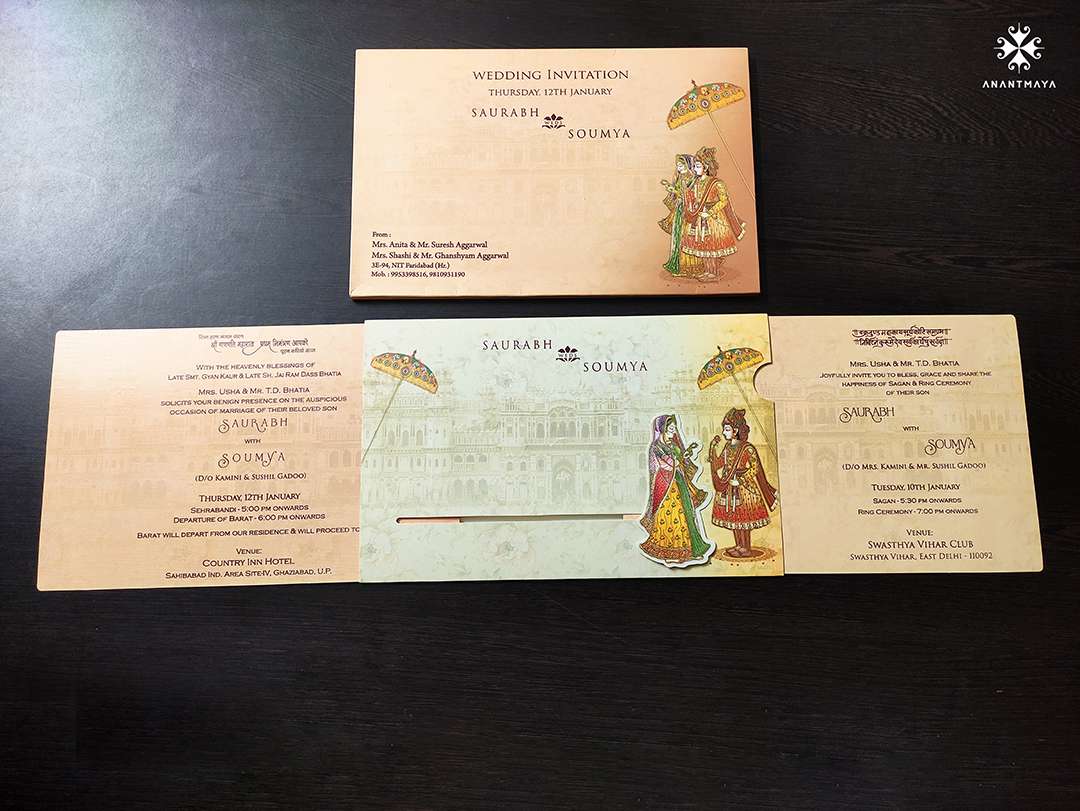 Handmade Invitation Card
What makes a handmade invitation card so special? It is the result of a solitary individual's sweat and effort on every card that you share with your guests. Luxury Wedding cards made by hand are becoming popular these days, as people like us want to support the craftsmanship of individuals and appreciate them.
Most cards are machine made, using automation. Yet, these are a set of cards that have the sweat of an individual putting an honest effort and wishes to make your wedding a grand one. Hence, each one of your cards will be a unique one.
Types of Handmade Invitation Card
A handmade wedding invitation card for wedding may not have the fit and finish of a professionally machine made invitation card. On the other hand, it has the the mark of a human touch to your wedding invite.
There are two types of handmade invitation card. One is the semi-handmade wedding card, where the basic card is printed out on a printer. We then embellish the card using external elements that make it unique, colourful and lovable, with a touch of luxury.
Handpainted Wedding Invites
We have hand painted wedding cards and other handmade wedding invites. Our experts beautify these using frills of colour; gold, maroon and other attractive colours are popular. We also add other embellishments like beads, pearls, leaves and florets. As a result, these luxury handmade wedding cards increase the intrinsic value of the cards themselves.
We arrive at the basic handmade wedding card design, based on our discussion with you, the customer. We then finalize on the design based on back and forth discussions between the design team and you. The embellishments are then added on to the card. This makes it a personalized handmade formal invitation card, which is unique to your wedding.
What makes a Handmade Wedding Card special?
A handmade invitation card is special because of the personal touch involved in the wedding card design, which is unique to every event. For example, we found this Youtube video on handmade invitation making simply interesting.
There are limitations on personalized invitation card designed by hand. It is that the time taken for customizing the cards is longer, due to the manual process. This would probably limit the production to about 100 cards per day. Of course, we can ramp up the numbers of these handmade wedding cards, based on the quantity and the lead time before delivery.
Largest Wedding Invites Showroom
For all your hand made wedding cards requirement, Anantmaya is your one stop solution; also for all your wedding accessories. We make exclusive handcrafted wedding cards for you. Let our design team take over and make a unique design based on your selection of the standard wedding cards.
We will then make it special with our manual embellishments, gold or silver lace borders, beads, crystals, pearls and others to enhance the handmade formal invitation card design. Top it up with unique tassels and a special string to tie the invitation up.
You will feel special when you receive your hand made invitation cards, such as the golden wedding cards and such. Get Anantmaya's handmade wedding and reception invitation, or a formal invitation for birthday, teacher's day. Make a special impression on your invitees with our handmade invitation card.
Handmade Invites in Multiple Languages
We make these handmade invitations in your language, which can be Tamil, Telugu, Hindi or another regional language.
Come over to our showroom, the largest wedding store in Chennai, at Mandaveli, just a few hundred metres from the Mandaveli bus stand. Do make a call intimating us of your visit and we will have a specialist personally attend to you upon your requirements.
We all love handmade wedding cards for one simple reason; there is the dedication of one individual that is involved in the making of your invitation card design, made by hand.
That effort alone makes these beautiful handmade wedding cards, precious. The idea is to create as many of these handmade creative invitation card collection, to present as many designs as possible for the prospective client to browse through and make a purchase decision.
Handmade formal invitation card
Whether it is a formal invitation card or not, handmade is a tag that makes it more than priceless, premium and extravagant, even if not in the literal sense.
Right from the first call or your personal visit to our showroom, the largest invitation showroom in Chennai, the process of printing your handmade invitation card begins. Our store manager and his team are focussed on ensuring your happiness, by assisting you pick and choose and finalize your invite from our extensive invitation card design collection.
It is our experience that the card that holds your attention first and makes your heart skip a beat that is mostly suited for you. The rest are merely distractions.
From the time you finalize your card, till your cards are printed, we closely follow with you in confidence, at every step of the design and printing process.
Once your invitation card is printed, we ensure that you get it on time; either you pick them up from our showroom at Mandaveli, or we deliver it at your doorstep.
Come to Anantmaya, for all your handmade invitation card requirements. We are sure you and your guests alike, will love these handmade wedding cards.
Visit Our Store
Behind every wedding tale there a thousand little anecdotes of love, laughter, sacrifice and a million emotions. Fortunate are the couples who are able to create an artistic memorabilia and not just an invite; which most accurately represents their journey until their D-day.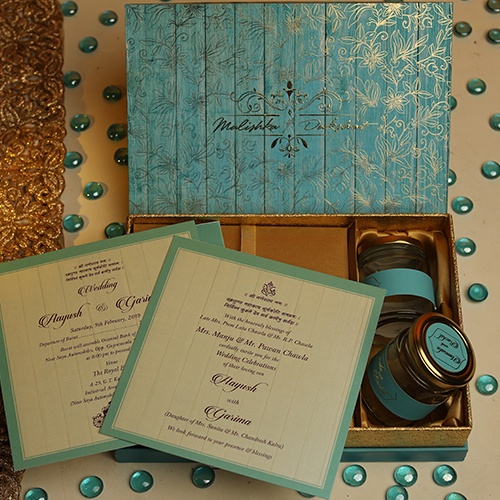 Bringing Ideas To Life
Behind every wedding tale there a thousand little anecdotes of love, laughter, sacrifice and a million emotions. Fortunate are the couples who are able to create an artistic memorabilia and not just a handmade invite; which most accurately represents their journey until their D-day.
Begin your wedding journey with our handmade wedding cards