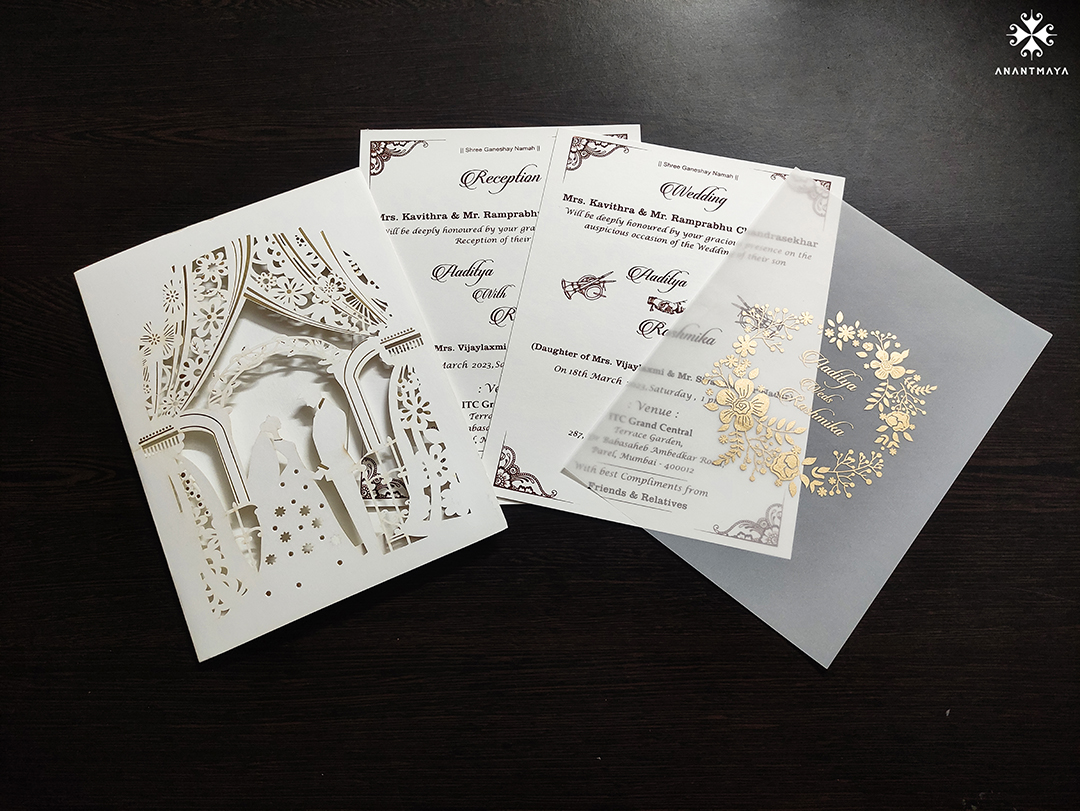 Christian Wedding Cards
We have an almost unlimited collection of templates for Christian wedding cards here at Anantmaya. We have one of the largest wedding cards showroom in Chennai. Your Christian wedding cards can be designed right from scratch, or you may also choose from over 3000 preset designs from our exclusive cards collection.
What's more, almost all of these available designs may be customized and improved to suit your taste, convenience, limited only by your budget.
Your Christian invitation may be beautified and enabled with the best Bible verses, incorporating the religious feel in your card.
The bible verse usually occupies the top of the card, mostly centred, reminding everyone of the significance of these verses to the couple.
For, Christian wedding invitation card wording, have a look at this. Corinthians 13:4-8, Ephesians 4:2, Corinthians 13:13, Peter 4:8, John 4:18-19, John 3:18 are some of the popular verses used in our wedding cards.
Check these out from
Song of Solomon 2:16: "I am my beloved's, and my beloved is mine."
Song of Solomon 3:4. "I have found the one whom my soul loves."
Corinthians 16:14. "Do everything in love."
People generally tend to rely on older translations like the King James version for a formal invitation, while using the New International translation of the Bible for a more casual tone.
We can also print your Christian wedding invitation cards in Telugu, Tamil, English or any language of your choice. Right from selecting the right Christian wedding invitation, to the wedding card design and till the printing of your creative wedding card, we are with you all the way.
We have an experienced set of professionals to cater to you, at every stage till your marriage invitation is printed to your complete satisfaction. We are a professionally run organization and there is complete transparency in all stages of development of your Christian wedding card.
Christian Wedding Cards Online
Plan to get your wedding cards online, right from the time of ordering. We can get on a video call to choose your wedding card and have your content finalized over the Whatsapp group specifically created for this purpose.
Once the design is finalized and the full payment made, your order is processed, made and delivered at your doorstep. We would however, love to have your presence at our showroom, having a go at all our collection, take your time to make your choice, based on the designs, colours and your budget.
The Christian wedding card has to have symbols that represent the religion. These are the cross in different variations, the fish, dove, anchor, chalice, alpha, omega, the sacred heart, the lily, olive branch, rose and other such symbols that are considered sacred, by a Christian.
We have a unique collection of Christian cards for every budget.
Sample Wedding Cards
Come over to view the sample collection of our wedding invitations for your reference. We have the best collection of Christian wedding cards in India. Our designs are frequently refreshed, with a new set of cards collection that are introduced frequently.
Whether you plan to print your Christian engagement invitation, wedding card, house warming invitation or other type of invitation cards, we are here to serve you with all your Christian invitations.
Your Christian marriage wedding cards could be chosen from scroll invitations of different types, such as royal scroll cards, fabric scroll, with different material for the scroll rods using metal, wood or plastic as per your choice.
Or, you could make your unique Christian wedding card design theme based, like lotus theme invites, nature theme etc., And there are luxurious box invitations, open up 3d invitations, envelope type invitations, mdf board invitations, cardboard box invitations, paper box invitations for your Christian wedding cards.
Worldwide Delivery
Whether you are in Chennai, Coimbatore, Bengaluru, Mumbai, Delhi or Kolkata; whether you are in India, USA, South Africa, Australia, UAE or anywhere else, Anantmaya will reach you. We deliver your Christian wedding card all over the world; wherever you are; whatever your requirement; timely delivery guaranteed.
There are Value Additions, Enhancements
Your Christian wedding card design could be enhanced and enriched using embossed, engraved and laser-cut content that would take your wedding invite to level next.
Essentially, your Christian marriage invitation could be chosen from our collection, your Christian marriage card design done with the help of our design team and printed with your choice of plain printing, or embellished with enhancements like embossing, engraving, laser cutting and so on, using plain cards or premium and unique wedding cards material such as box, mdf, hdf boards, cardboard boxes and such.
Do pay us a visit; just give us a ring before you come, so that we will ensure that there is a wedding cards specialist in wait for you, to clarify all your questions on wedding cards.
Whatever cards you require for your Christian wedding, we have it in our all in one wedding products showroom, which is located in Mandaveli, Chennai. Note that we ship all our products worldwide.
Welcome to the world of Anantmaya, not just Christian wedding cards, but an unique, personal and heart-warming experience.
Visit Our Store
Behind every wedding tale there a thousand little anecdotes of love, laughter, sacrifice and a million emotions. Fortunate are the couples who are able to create an artistic memorabilia and not just an invite; which most accurately represents their journey until their D-day.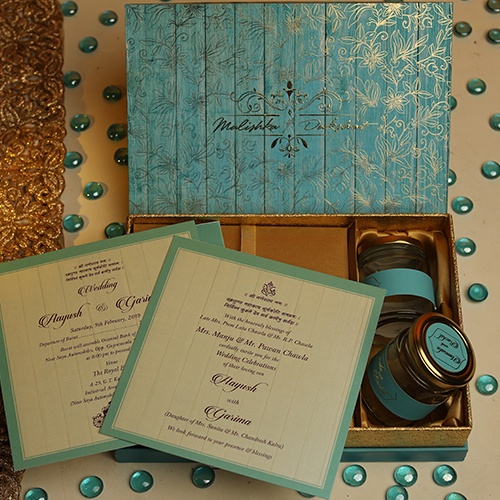 Bringing Ideas To Life
Behind every wedding tale there a thousand little anecdotes of love, laughter, sacrifice and a million emotions. Fortunate are the couples who are able to create an artistic memorabilia and not just your Christian invite; which most accurately represents their journey until their D-day.
Begin your wedding journey with us