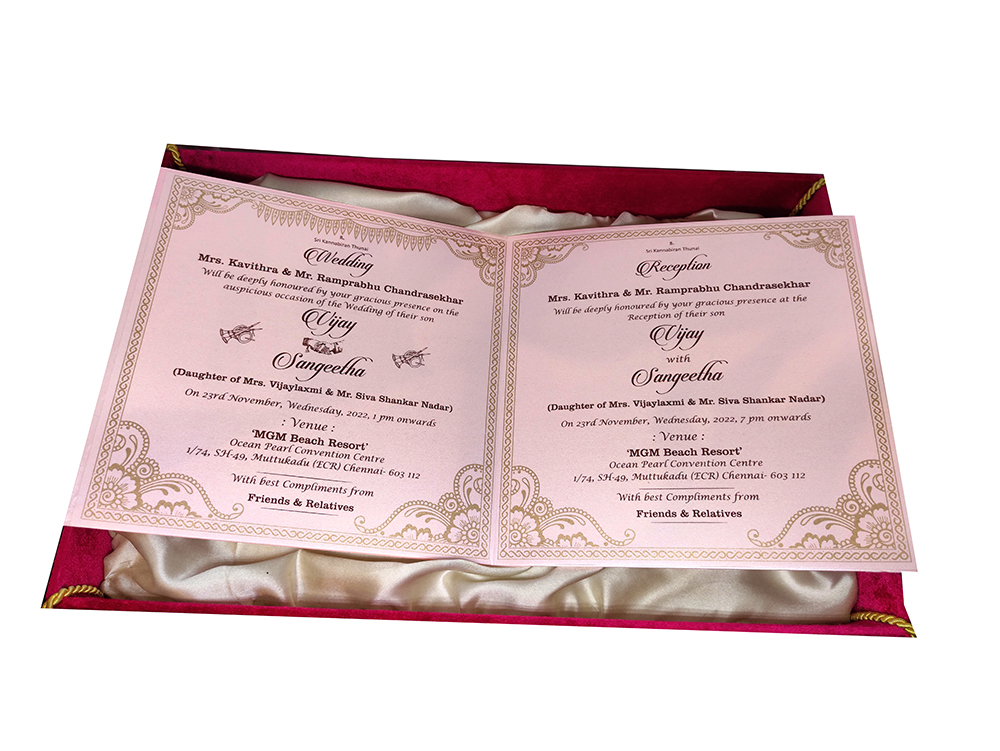 You are looking for pastel wedding cards; great choice. Out of an estimated 10 million shades of colours, a small percentage of shades keep their special place in the spectrum. Those colours are called pastels. They are known for their style, grace and extreme presentability. Welcome to the world of pastels.
A versatile set of colours if there was any, these pastel colours would make your wedding card stand out among others. If you want a wedding invitation that looks special and out of the ordinary, it is time you consider special pastel wedding card designs for your special wedding.
Basically, these colours are feminine in nature, but as they say, we need the powerful shakti every moment of our life. And so, it would be appropriate to choose one of the numerous pastel wedding cards, predominantly pastel blue and pastel pink, from our collection.
There's something special about pastel colours, which is, everybody seems to like them and fall in love with them. So, we have pastel blue wedding invitations, pastel birthday invitations, pastel themed invitations, like pastel pink wedding invitations; practically every celebration that needs to be special, may be printed in one of the many pastel colours.
They seem to have the ability to make even a tensed up situation normal. So, get your wedding invitations here at Anantmaya. We have a spacious showroom for all wedding products, which includes pastel wedding invitations.
We have a whole wall full of pastel blue and pastel pink invitations in all shapes and sizes. I will try and explain the possibilities here. First of all, there is the texture, which you get when you run your palm over the card. So, you get matte finish, embossed designs, gold foiling, laser cut designs, or debossed if you wish too.
A wedding invitation is nothing but a representation of yourself. Your wedding card is capable of telling your guest a little about you and how you want them to perceive you. And the beautiful part of the invitation making process is that you have all the flexibility to customize and fine tune your card to represent what you want them to see.
For example, you can design your own wedding logo, which we can get made in acrylic, in gold, the projecting monogramme that your guest sees when they open the sleeve, or on the wrapper, is an emotion of positivity. Your wedding invite has made the required impression.
Alternately, we can have a metallic EP sticker with the couples' names engraved in gold, or an acrylic plate with the couple names rendered prominently, the choice is yours. The finish could be matte or glossy. They come with floral and other designs on all 4 corners. These designs are usually embossed and could be enhanced with gold foiling, to make it look rich and luxurious.
As a default, two inserts, one each for an event, come with your pastel wedding card, with the possibility of accommodating additional cards, if there are more events planned for your wedding.
In fact, with hundreds of wedding cards in the collection, it is easier to choose a unique wedding card design that appeals to your heart and print it with your content to make it unique. Our wedding cards collection is unique and available only at our showroom in Mandaveli, Chennai.
In case you aren't in Chennai, we can organize a video call for you to have a look at our collection, choose a design of your choice and get your cards printed and delivered right at your doorstep, wherever you are in the world. Yes, we do overseas deliveries.
As with all wedding invitations, we have the wrapper, the sleeve and the insert. These above mentioned special effects are available on the wrapper, the invitation sleeve and the insert.
If you are in the city, we urge you to come over to our showroom, to get a first hand feel of all our beautiful pastel wedding card collection, including floral pastel wedding invites. We work all 7 days, all 365 days of the year, between 11am and 8pm.
Over a short period of time, we have built a reputation for ourselves, in the wedding invitation industry as a market leader and trustworthy in terms of products that are of the highest quality.
Call or Whatsapp us anytime for a quick response to all your queries. Thank you.
Do have a look at our other invite offerings here, for you to make an informed decision.
E Invitation | Box Invites | Simple Wedding Cards | Manjal Pathirikai | Muslim Wedding Card | Mandala Wedding Card Design | Kalamkari Wedding Invitation | Pastel Wedding Cards | Christian Wedding Cards | Scroll Invitation Card
We have a dedicated design department, which can help you get your wedding invitation in record time. Come, get your pastel wedding card, designed and printed with us.
Visit Our Store
Behind every wedding tale there a thousand little anecdotes of love, laughter, sacrifice and a million emotions. Fortunate are the couples who are able to create an artistic memorabilia and not just an invite; which most accurately represents their journey until their D-day.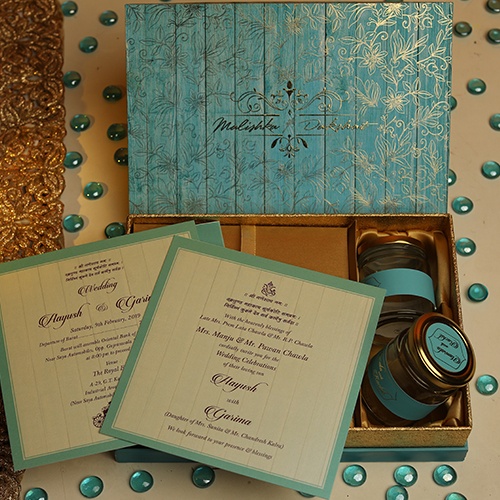 Bringing Ideas To Life
Behind every wedding tale there a thousand little anecdotes of love, laughter, sacrifice and a million emotions. Fortunate are the couples who are able to create an artistic memorabilia and not just an invite; which most accurately represents their journey until their D-day.
Being your wedding journey with us
Book Your Style Consultation
Fix an appointment and meet our team of style consultants in our office who will understand your exact requirements and help you make your design dreams come to life.
Visit our boutique
Walk into our store to explore a wide variety of pre-designed invite choices on display. You could place an order on the spot and get them delivered to your home within the promised time.
+91 7824088999